The North American International Auto Show – NAIAS, or the Detroit show for short – is America's most significant motor show. Located in the American automotive heartland it's typically where some of the motoring world's biggest launches take place – both literally and figuratively.
While this year struggled to top 2015's surprise reveal of the new Ford GT, several performance and luxury cars are making their debuts, and by the time the year is out, evo will have got behind the wheel of them all. Click on the links in each summary below to head to our full stories.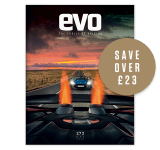 Subscribe to evo magazine
Subscribe today to have every issue of evo delivered straight to you. You'll SAVE 39% on the shop price, and get evo for its original cover price for a whole year!
Audi H-Tron Quattro concept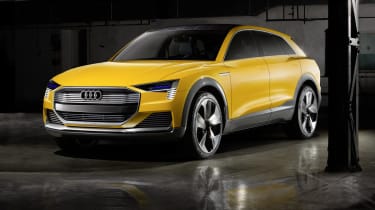 Funny how the Volkswagen Group hasn't unveiled any diesel concept cars lately, isn't it?... While we mull why that might be, Audi has unveiled a new hydrogen fuel-cell concept at the Detroit auto show.
Importantly, the company quotes 'zero global emissions' from the concept, since power used to extract hydrogen from electrolysis is produced via wind turbines. The concept does 0-62mph in under seven seconds and features much of Audi's new touch-sensitive and gesture-controlled interior tech.
BMW M2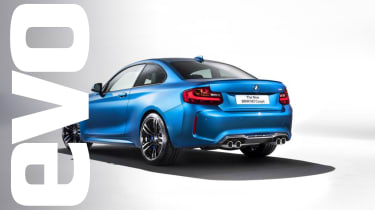 The BMW M2 certainly isn't new to us – you can see our full preview video by clicking the image above – but Detroit was the first chance for many people to see BMW's compact sports car in the metal.
It uses a 3-litre twin-scroll turbocharged inline-six, developing 365bhp at 6500rpm and 343lb ft from 1400rpm. And BMW promises it'll be a proper drivers' car. The company even expects for 50 per cent of sales to be the manual transmission model.
Infiniti Q50 twin-turbo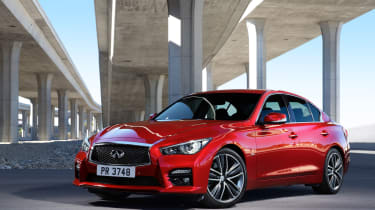 Offering premium performance of a different kind, the revised Infiniti Q50 will debut in Detroit with a new engine: a 3-litre, twin-turbocharged V6. The engine is related to that of the Nissan GT-R and puts 400bhp tp the rear wheels.
That's not far off the output of a BMW M3, and while Infiniti's offering probably won't be quite as focused as the BMW, it'll give the range a much-needed high-performance offering. A 2-litre turbocharged petrol, 2.2 diesel and hybrid model will remain available.
Infiniti Q60 coupe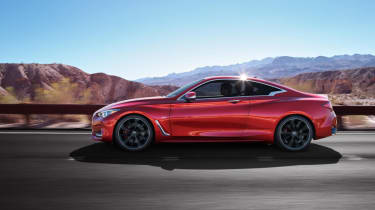 Joining the potent Q50 in Detroit is a new coupe version of the Q50, inventively dubbed Q60. An attractive concept version was presented at last year's Detroit Auto Show, but this year marks the debut of the production model.
It's sure to be offered with the Q50's new 400bhp engine, and if Infiniti chooses to offer the Q60 in the UK, those petrol, diesel and hybrid options should also be on the menu.
Kia Telluride concept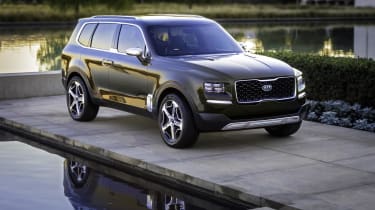 At what point do we stop describing Kia's ascension from the realms of budget vehicles to fully fleshed-out mainstream models a renaissance? It's hard to say, because the brand continues to take great leaps in quality and talent that belie the image suggested by its humble badge.
Its new Telluride concept is the latest car to take that leap. It isn't yet confirmed for production, and realistically isn't a vehicle likely to tickle the tastebuds of evo's road testers, but it's impressively-detailed, produces 400 horsepower from a V6 hybrid powertrain and has a simplistic but luxurious cabin.
Lexus LC 500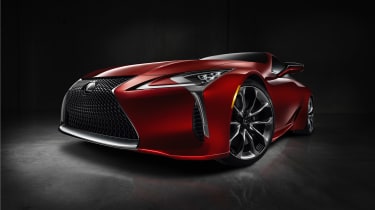 Possibly the biggest surprise at Detroit was this new Lexus coupe. It's striking - probably the most attractive modern Lexus and the best interpretation of details like the 'spindle' grille and dramatic lines. It's also powerful, with a 467bhp V8 under the bonnet.
It's built on a new rear-wheel drive platform though it's more of a GT than an out-and-out sports car. That, along with a high-tech cabin, suggests Lexus will play to its strengths when the eventual road version arrives.
Mercedes-Benz E-class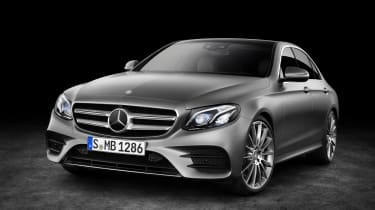 Images and details of Mercedes' new executive saloon leaked out shortly before Detroit, but it's become clear that the latest executive saloon brings a new standard of interior quality and technology to the class.
Some may be disappointed with the styling - it's very similar indeed to the smaller C-class and larger S-class - but few will be disappointed by the S-class-style cabin, ultra-low emission engines and high levels of technology. And as ever, we're holding our breaths for the Mercedes-AMG variant.
Mercedes-Benz SLC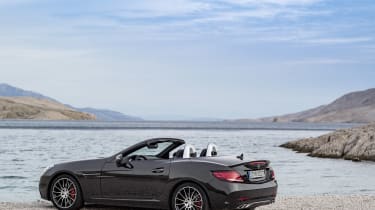 Your eyes aren't deceiving you: The car you see above is the new Mercedes-Benz SLC. Of course, we all know it's a rebadged SLK, with a few styling tweaks to bring it in line with other models in the Mercedes range.
There are new and revised engines too, but perhaps the biggest news is that the range-topping AMG model now no longer uses a V8 engine. Instead, the SLC 43 uses a 3-litre biturbo V6, producing 362bhp and 384lb ft of torque. There's a new entry-level 1.6-litre turbo too.
Porsche 911 Turbo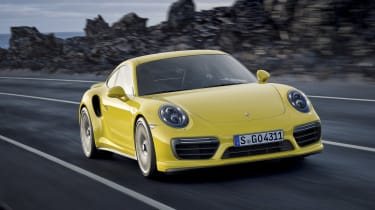 That's Turbo as in Porsche's full-fat Turbo and Turbo S models, for the record. It's necessary to clarify these days thanks to the rest of the 911 range also going turbocharged, but rest assured those badged with capital letters will still be the big performance models.
The Turbo rises to 532bhp (20bhp more than before), while the Turbo S makes a similar jump to 573bhp. A 'dynamic boost' system helps minimise lag, and PASM is standard. You'll pay £126,925 for the Turbo and £145,773 for the S.
Volkswagen Tiguan GTE Active concept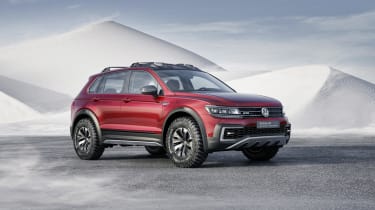 Like partner Audi, Volkswagen took a resolutely non-diesel approach to Detroit. The GTE badge has been seen before - on the Golf and Passat - and now it looks like we'll find it on the next-generation Tiguan too.
The car is likely to look much like this concept, though probably not quite as rufty-tufty as this. Probably not as powerful either: its engine and a pair of electric motors help it sprint to 62mph in 6.4 seconds.
Volvo S90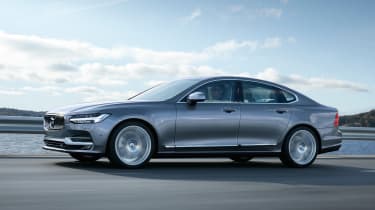 If Kia's progress can be described as a renaissance, Volvo's recent model launches are more like a reaffirmation that the Swedish marque can do luxury just as well as its German counterparts.
The current XC90 is a genuinely excellent luxury SUV, and the new S90 will take that concept and put it into one of the more stylish and elegant luxury saloons we've seen in recent years. Volvo's T8 Twin Engine plug-in hybrid drivetrain – with 401bhp – will also find its way into the S90.