Gran Turismo Sport is arguably the most anticipated racing game of the current generation of consoles. Before we start, a caveat; GT Sport is absolutely not Gran Turismo 7. It's more a prologue - a taster of what's to come if you will, or at least something different to a traditional GT game.
At the core of GT Sport is Polyphony Digital's ambitious plans for online multiplayer. Beyond conventional player versus player racing, GT Sport will host a fully FIA approved race championship at both a national and manufacturer level.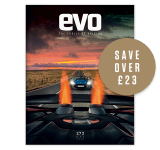 Subscribe to evo magazine
Subscribe today to have every issue of evo delivered straight to you. You'll SAVE 39% on the shop price, and get evo for its original cover price for a whole year!
Ultimately though, it's just nice to have some Gran Turismo back in our lives. PlayStation 4 owners haven't had the likes of Forza to play with, so it's about time we get a full fat triple-A racing game.
GT Sport release date
Like several of the last Gran Turismo games, GT Sport has been delayed. Originally scheduled to release in November 2016, its launch date is now an unspecified point in 2017 - coincidentally, twenty years after the very first Gran Turismo game was launched in the Japanese market. Though that was in December 1997 - hopefully, we'll not have to wait another full year for GT Sport to release...
4K trailer and new images
Sony has released a new 4K trailer for GT Sport - which you can watch above - and a host of images showing not just a wider range of the cars available, but also some of the game's stunning lighting effects.
While GT Sport doesn't have dynamic time transitions like GT5 and GT6, you will be able to select different times of day - several of which are displayed in the new batch of images. As we noted when we first got our hands on a preview build of GT Sport, the game is edging closer towards photorealism, but while some environs are prettier than others - Brands Hatch looks stunning, for instance - others seem to require a little more work. Look at the images of the rally course, and at least up close, there's a little too much similarity to previous GT titles.
> Check out our take on the greatest racing games of all time
There's a complex photo mode included with the game, which effectively allows you to snap cars with DSLR levels of control, and shows off GT Sport's graphical prowess even more. Admittedly the preview build we played did suffer from some graphical glitches, but we've no doubt these will be ironed out in the final version of the game.
Tracks, although detailed, do still have that slightly lifeless quality that Gran Turismo games have long had as rivals have introduced more depth and character. Still, of those we played, they looked excellent, with the Nordschleife in particular appearing little different from the real thing.
GT Sport will feature 137 of what Polyphony Digital calls 'Super Premium' cars. That is, those that have had their interiors and exteriors fully rendered down to the minute detail. We drove a MY17 GT-R, which matched the real thing like for like, as did the Golf GTI and R8 LMS.
Sound
Finally, after a multitude of disappointments, Gran Turismo appears to have sorted its audio out. It might peg itself as the 'real driving simulator', but having a Le Mans car that sounds like a hairdryer doesn't really do justice to that title.
While playing the preview we made sure to drive cars that we'd actually driven in real life. The Golf GTI was close to the real thing, but the GT-R was absolutely bang on. Gone is that strange flat drone that Gran Turismo used to love so much, instead the GT-R's twin-turbo V6 actually sounded like the real thing. That slightly digital tyre squeal has also gone. It does need more volume though and that irritating background music has to go.
Gameplay
The basic format laid out by Gran Turismo all those years ago remains true. This is a game which is about simulation, but not to the detriment of fun. Gran Turismo has always recognised that it needs to be easy to pick up and play and here, with GT Sport, that philosophy has returned.
Firstly, players can opt for the standard Arcade mode if they just fancy racing. Alternatively, the standard story mode, complete with its basic training and tutorials, returns. Either you can ease yourself into the game or go straight for a lap of the Nordschleife in an LMP1 car. Your call.
Gran Turismo's AI has been in need of a refresh for a long time. It's clearly been worked on here, but just never felt as dynamic as what Forza manages. Racing Golf GTIs and MX-5s on the Nurburgring consisted of large amounts of traffic, with the occasional car going off the racing line and doing something interesting. It's better, but it just didn't feel real enough.
Really though, what GT Sport's gameplay left us thinking, was what's the next step for racing games in general? Graphical fidelity is quite clearly there and the force feedback we got from the wheel we used felt very accurate, but in the end you're still stuck in your living room. There was no mention of PlayStation VR support, which is a shame, as one peek at this 'mixed reality' video of Assetto Corsa reveals the potential the tech has for racing games.
Who knows, Polyphony Digital might reveal plans to support PlayStation VR closer to the games release date. We hope so.
Online
GT Sport's online mode is fully supported by the FIA. You enter either as part of a manufacturer's championship or at a national level.
Things kick off in the 'racing etiquette' mode until you graduate to competing against the rest of the world. Players are split based on age and region, making competition and chances of winning that little bit more fair.
Every player will have their own profile which will be shared throughout GT Sport's own version of Facebook. A companion app for your smartphone will let you see your achievements on the go.