Police in the UK could be getting Ford Mustang V8s
Mustang GT allegedly being assessed by police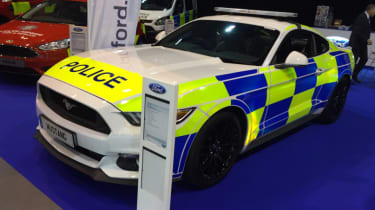 Police in the UK could begin using V8 Ford Mustangs as new patrol cars. Pictured above is a Police liveried Mustang GT currently on show at a Police car trade show.
Tweets by Pc Dave Lee show the Mustang, complete with a set of roof mounted LED lights, at the National Association of Police Fleet Managers trade fair.
It isn't however a PR stunt, as forces in the UK are genuinely considering using the car. Ford UK have confirmed that in fact a less conspicous black Mustang GT is undergoing assessment right now.
Priced in at £34,995, the 410bhp V8 Mustang offers plenty of performance for a patrol car and isn't a huge strain on public funds.
Other vehicles on show included a BMW M2 and a Renault Twizy. These seem a little less likely to make the cut as full time Police cars.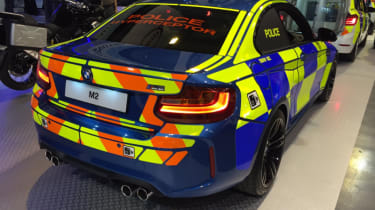 The Italian police recently recruited an Alfa Romeo Giulia Quadrifoglio to its ranks. At 503bhp, it's behind only the supercar collection of the Dubai police on performance.
We praised the Mustang's sense of theatre in our review, but still found its body control compared to rivals a let down.