Formula One 2017 Round 1 preview - Melbourne
Albert Park will host the opening round of the F1 - with free practice kicking off in a matter of hours
We are mere hours away from Practice 1 at the opening round of this years Formula 1 Grand Prix in Melbourne. Thanks to the sweeping set of regulation changes that we have previously reported on, this will be the moment that all of the teams' work over the winter season of testing will be exposed revealing exactly who has got the formula right, before the race kicks off this Sunday.
The Teams
The greatest expectations definitely sit on Mercedes-Petronas. After dominating F1 for the last three years, the loss of last year's world champion Nico Rosberg, and the extensive changes to the car, success is not a guarantee for the Brakley-based team out of the gates.
Ferrari's performance during Barcelona testing will also rattle the Silver Arrows, as the consensus throughout the field is that the Italian team is finally back on point to challenge for the championship. With two former world champions in the hot seats, Ferrari is definitely not short of driver talent either.
Red Bull remains coy about its chances of instant success, with Dutch superstar driver Max Verstappen digressing that he doubts they will be challenging for race wins off the bat. Red Bull will also reveal more updates to the car when it hits the tarmac later tonight, perhaps confirming that Red Bull is still in the development phase of the new car.
After an encouraging week of testing, Williams hopes to dramatically improve on last years results, and is aiming to not only overtake Force India this year, but challenge for third place in the constructors championship.
McLaren however is looking increasingly vulnerable, with significant reliability and electronic issues coming into the opening round. After a challenging testing phase in Barcelona, McLaren will be likely battling too many of its own internal battles to challenge for a high championship position.
This, of course, is all team speculation, with the true performance of every squad set to be revealed during the three practice sessions taking place before qualifying, and finally the race, on Sunday. 
The Race
Since 1996, Melbourne has hosted the inaugural round of the Formula 1 Grand Prix season (bar 2006, which was shifted due to Melbourne hosting the Commonwealth games). Run over 58 laps, the all-time lap record is held by Michael Schumacher with a time of 1:24.125, set in 2004.
Mercedes-Petronas has been dominant over the last three years, with last year's winner Rosberg trading wins with teammate Lewis Hamilton in 2015. In 2016, the fastest lap was made by Daniel Ricciardo, setting a time of 1:28.997, lapping the track at an average speed of 132mph.
With a warm climate in late March, Melbourne's changeable weather can bring heavy rain, although this year the forecast promises dry racing to really test out the new tyres.
The Track: Albert Park, Melbourne
Late summer in Melbourne is the perfect time of year for a beer in Albert Park. The fact there is also a Formula 1 race going on sweetens the deal, perhaps explaining why the Australian round is always so popular with teams and drivers. 
Based around a unique combination of public roads and dedicated track surface, Albert Park sits just south east of Melbourne's central business district. The track loops around the Albert Park lake and golf course, and is both fast and technical. Lacking any major elevation change, overtaking can be tricky, but brave moves are possible, promoting a generally eventful race.
Pole Position is as crucial as usual on a city circuit, but thanks to a couple of good overtaking points the race doesn't usually end up in a carriage ride like Monaco or Valencia. 
As a prior, consistent race-goer, Melbourne is a brilliant F1 race to see due not only to the track and its facilities, but also the closeness that spectators can get to the rack limits.
With the increased volume of the cars this year, the joy of crossing a track bridge with an F1 car passing underneath might well be as awesome as it was in times past; it used to feel like you were in an exhaust plume tunnel during a NASA rocket launch. 
Add to this the close proximity of great bars and restaurants, as well as the world's best coffee, a Formula One round scarcely gets better all year.
- Jordan Katsianis
Formula 1 2017 teams and drivers
The big news here is Mercedes AMG Petronas, which didn't exactly see Rosberg's departure coming and suddenly had to find someone to replace him. That someone turned out to be Finn, Valtteri Bottas, who impressed in his previous role as Massa's teammate at Williams.
Massa, who had himself retired, was brought back to Williams and will be partnered with Canadian driver Lance Stroll.
Ferrari and Red Bull Racing's lineups have remained consistent: Vettel and Raikkonen in the former, Ricciardo and Verstappen in the latter. With Jenson Button another retiree at the end of 2016, McLaren Honda's lineup has altered slightly, with Belgian driver Stoffel Vandoorne leaving Japanese single-seater series Super Formula to partner Fernando Alonso.
Kevin Magnussen leaves Renault for Haas, driving alongside Romain Grosjean. His space at Renault (which retains Brit, Jolyon Palmer) is filled by Nico Hulkenberg, whose former Force India spot will in turn be filled by Esteban Ocon. Ocon moves from Manor Racing, which went into administration earlier in the year but whose entry remains valid until the third race of the season at Bahrain. Sergio Perez remains at Force India.
Luckily for former Manor driver Pascal Wehrlein (one of the drivers briefly touted as Rosberg's replacement), he replaces Felipe Nasr at Sauber-Ferrari. Nasr exits F1, for the time being at least.
Last but not least, there's Torro Rosso, which keeps the Russian-Spanish partnership of Daniil Kvyat and Carlos Sainz Jr.
> 2017 Williams F1 car revealed 
Formula 1 2017 circuits
F1 circuit changes haven't quite been as comprehensive as the driver changes for 2017. Plans to bring back Imola haven't materialised and there will be no Grand Prix in Germany this year, since deals with neither Hockenheim nor the Nurburgring could be finalised.
The only other changes are schedule shifts for China and Bahrain, which swap places, and Baku - which will no longer conflict with Le Mans - is now known as the Azerbaijan Grand Prix. A full calendar of this year's Formula One races is below:
| | | | |
| --- | --- | --- | --- |
| Round | Event | Location | Date |
| 1 | Rolex Australian Grand Prix | Melbourne Grand Prix Circuit | 26 March |
| 2 | Heineken Chinese Grand Prix | Shanghai International Circuit | 9 April |
| 3 | Gulf Air Bahrain Grand Prix | Bahrain International Circuit | 16 April |
| 4 | Russian Grand Prix | Sochi Autodrom | 30 April |
| 5 | Gran Premio de España | Circuit de Barcelona-Catalunya | 14 May |
| 6 | Grand Prix de Monaco | Circuit de Monaco | 28 May |
| 7 | Grand Prix du Canada | Circuit Gilles Villeneuve | 11 June |
| 8 | Azerbaijan Grand Prix | Baku City Circuit | 25 June |
| 9 | Grosser Preis von Österreich | Red Bull Ring | 9 July |
| 10 | British Grand Prix | Silverstone Circuit | 16 July |
| 11 | Magyar Nagydíj | Hungaroring | 30 July |
| 12 | Belgian Grand Prix | Circuit de Spa-Francorchamps | 27 August |
| 13 | Gran Premio Heineken D'Italia | Autodromo Nazionale Monza | 3 September |
| 14 | Singapore Airlines Singapore Grand Prix | Marina Bay Street Circuit | 17 September |
| 15 | Petronas Malaysia Grand Prix | Sepang International Circuit | 1 October |
| 16 | Japanese Grand Prix | Suzuka International Racing Course | 8 October |
| 17 | United States Grand Prix | Circuit of the Americas | 22 October |
| 18 | Gran Premio de México | Autódromo Hermanos Rodríguez | 29 October |
| 19 | Grande Prêmio do Brazil | Autódromo José Carlos Pace | 12 November |
| 20 | Etihad Airways Abu Dhabi Grand Prix | Yas Marina Circuit | 26 November |
Formula 1 2017: technical changes and new rules
F1 will be faster in 2017, thanks to a list of new technical changes aimed largely at improving lap times. It should alter the look of the cars too, as many of the changes herald significant differences in aerodynamic components and tyres.
Those tyres are much wider than before - up from 245mm to 305mm at the front and 325mm to 405mm at the rear for a satisfyingly barrel-like appearance. The latter isn't far off the 420mm maximum rear tyre width allowed in 1992 before slightly narrower tyres were brought in for 1993, which gives you an indication of the visual difference.
That's complemented by a wider track - 2000mm, up from 1800mm, and bodywork that can now be up to 1600mm wide, 200mm wider than before. The front wing can now be 1800mm wide (up from 1650mm) and a rear wing's profile and aspect both change, at 950mm wide and 800mm high, compared to last year's 750mm by 950mm.
The endplates have also changed, the diffuser grows by 50mm in height and 50mm in width and barge boards are larger too. The combined effects of these will mean a sleeker car, and both more mechanical and aerodynamic grip. The addition of 20kg to the minimum weight (now 722kg with driver) will be almost academic, with lap times up to three seconds faster than last year.
The elephant in the room is overtaking. It's commonly known that big aerodynamic devices make it difficult for cars behind to get close enough to those in front to overtake. The FIA tried to fudge a fix with DRS and a boost of energy from KERS but the problem is more fundamental than that.
Giving cars extra aero grip then? It's unlikely to change that situation. Had the new tyres been introduced on their own it might have been a step in the right direction - but we'll have to wait and see when the Australian Grand Prix kicks off in late March.
The 2017 contenders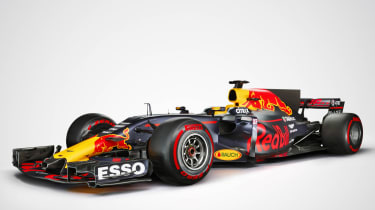 The 2017 cars have all now been revealed, giving us an idea about how each of the teams have adapted their car based on the new regulations. Large fins above the engine cover and elaborate front wing designs seem to be a couple of trends seen between the teams, although many didn't show or covered up the rear diffusers. We will get our first taste of how the cars perform in pre season testing, but will have to wait till round 1 in Melbourne to see who has come out on top. 
>Click here to see the 2017 cars in full