Sir Stirling Moss: remembering a motorsport legend
British motorsport icon Sir Stirling Moss has passed away at the age of 90. We pay our respects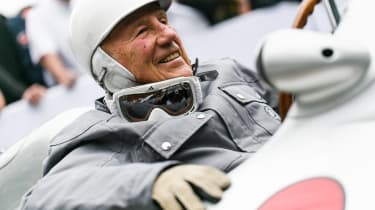 The passing of Sir Stirling Moss on Easter Sunday brought to an end one of the most remarkable stories in motorsport's history – a sport that's not exactly lacking in excitement, heroes and legends.
Regarded as one of the most naturally gifted drivers of all time, Moss's personality on and off the track marked him out as the creator of the professional template all racing drivers, and sportsmen, should go about their business using today.
Tough but fair on track, approachable and entertaining off it, Moss won friends away from the racetrack as easily as he found winning races on it. A tally of 494 events entered, 366 finished and 222 victories during a period when surviving the weekend with your life was considered an achievement in itself.
> Mercedes SLR McLaren Stirling Moss
A teammate to the great Juan Fangio, a three-time runner-up in the Formula 1 Driver's World Championship, a two-time runner-up at Le Mans (with Jaguar and Aston Martin), Moss's sense of the right from wrong cost him at least one F1 title, when he defended Mike Hawthorn at the Portuguese Grand Prix, an action that got Hawthorn reinstated to the results and awarded the six points for finishing second. Moss would lose the title later that year to Hawthorn by a single point.
His accident at Goodwood while driving a Lotus 18 Climax saw Moss win one of his biggest battles as a nation held its breath on news of its hero's condition as he recovered from severe head injuries. But while he called time on his professional racing career soon after, the Moss magic was never lost on the public.
When recounting the cars, the team and the events Moss participated in and for, it drives home how highly regarded he was. He wasn't afraid to turn down advances from Ferrari to race for the privateer Rob Walker, nor to back himself when he bought a Maserati 250F to enter the 1954 Belgium GP, finishing third, after being overlooked by the factory Mercedes-Benz team. The Belgium GP result was enough to convince Mercedes' boss, Alfred Neubauer, to sign Moss as Fangio's teammate for the following year for both its F1 and sports car programme.
It was during his time with the Mercedes team that Moss recorded one of his most remarkable achievements behind the wheel of a race car when he won the 1955 Mille Miglia. In just 10 hours 7 minutes and 48 seconds Moss and co-driver Denis Jenkinson completed the 992-mile course at an average speed of 97.96mph in their 300 SLR. It was an achievement that beggared belief then, and still does today.
Perhaps what makes Moss such a revered and respected figure is that his performances outside of the car were no less impressive. Speak to those fortunate enough to have worked with him, interview him or race alongside him in later years at historic racing events and it was the time he was willing to give to others that left such a lasting impression. A gentleman, a racer, legend and hero, Sir Stirling Moss OBE was one of a kind and he will be greatly missed.