Porsche 911 GT2 RS Clubsport Package brings even greater track focus
As if the hardcore 911 GT2 RS wasn't focussed enough, Porsche has unveiled the new Clubsport Package with FIA approved features.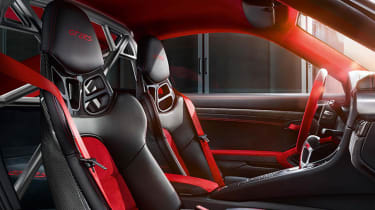 Following the announcement that Manthey Racing's 911 GT2 RS had broken the road-legal lap record at the Nurburgring, the Stuttgart marque has revealed the new 911 GT2 RS Clubsport Package, a no-cost option giving further confidence for owners using their cars on track.
The Clubsport Package provides the driver with an FIA approved rear steel roll cage bolted into the bodywork of the car. In addition a new 6-point harness finished in red and, of course, a fire extinguisher are 'supplied ready for installation'. Porsche will also fit your car with a battery master switch, another feature fully approved by the FIA and the Clubsport pack includes preparation for this.
> Mercedes-AMG GT R PRO to be revealed alongside updated GT range in LA
Since its reveal in 2017, the Porsche 911 GT2 RS, the most powerful 911 the company has ever produced, certainly hasn't disappointed. Its near-700bhp twin-turbo flat six has pushed the car around the Nurburgring faster than any road-legal car and it's proving to be a favorite for enthusiasts around the globe who value the ultimate in Porsche on-track performance. Now the Clubsport Package takes the standard car's circuit driving readiness to another level.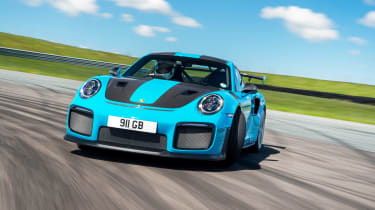 You can equip the Clubsport Package to your car through the Porsche Motorsport Department and while you're there, you could also choose to option a front cage bracket allowing the installation of a full roll cage for even greater protection.
Beyond that, Porsche's Weissach Package can deliver further weight savings of around 30kgs, with magnesium wheels making an appearance among other tweaks. The roll cage fitted to the Weissach car isn't FIA approved, but is titanium as opposed to the steel one in the Clubsport Package, providing weight savings of 12kg.
Predictably, your wallet would also be lighter as the Weissach extras come at a cost of £21,000. Opt for the Clubsport Package in conjunction with the Weissach one, however, and the switch from titanium to steel roll cage lowers the price to £17,000.