All-new Vauxhall Corsa detailed – crash diet and new powertrains for Fiesta-rivalling supermini
Will Vauxhall finally have an answer to the brilliant Fiesta ST?
The first fruits of PSA's Vauxhall buy-out are soon to be realised, with the all-new Corsa benefiting from a big drop in weight thanks to a brand-new chassis, new powertrains and fresh electrical architecture, all derived from its French parent company.
Vauxhall has confirmed that the new Corsa will drop up to 108kg compared to the previous model, which first appeared nearly 13 years ago, close to double the amount of time usually allocated a single model cycle. With what might essentially be seen as a two-generation leap, the Corsa's new CMP platform has facilitated a body-in-white drop of 40kg through the wider use of high-strength and ultra high-strength steels in the body's underlying construction.
> Vauxhall considers hot electric Corsa VXR to rival next 208 GTi
The new Corsa's powertrains will also be overhauled, utilising a new set of all-aluminium three-cylinder engines which will replace the GM-sourced power units that went before, saving up to 15kg, while new aluminium exterior body panels and redesigned interior components further contribute to the overall weight reduction.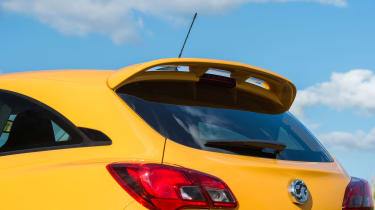 The next Corsa will be available in BEV form, but this new chassis should also put a future Corsa VXR or GSi in good contention, with the full arsenal of PSA's next-generation powertrain and performance technology now at Vauxhall's disposal. Vauxhall has not directly confirmed whether a performance flagship is in the making, but with Peugeot Sport already developing a new high-performance 208, a future warm, or even hot Corsa hatchback is now a distinct possibility.
The next Corsa is very close dimensionally to the outgoing model, but expect the loss of the three-door variant and an increased emphasis on opening up interior space. The interior will also undergo a big overhaul, with an all-new, simplified design language, built over the top of new electrical architecture found in other CMP-based models such as the Peugeot 208 and DS 3 Crossback compact SUV.
The new Corsa is due to go into production this summer, so expect an imminent reveal in the next few months. As Vauxhall's first all-new PSA-derived model since the high-profile buyout (Vauxhall's PSA-derived SUVs were developed under a previous technical partnership) the new Corsa might well be a looking glass into the future of Vauxhall, and its relevance within the global market.