New Supercar Club
GT3 RS or Gallardo Superleggera round the Nurburgring? New RS Academy offers both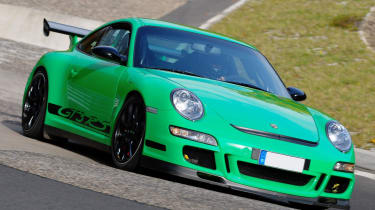 The RS Academy, unlike most supercar clubs, concentrates mainly on track driving. The club has collected together a Porsche GT3 RS, a Gallardo Superlegerra, a Renault Megane R26R, a BMW M3 CSL, a Radical SR3 and a Caterham R500 Superlight.
All cars are offered with private tuition of three tracks, the Nurburgring Nordschleife, Spa Franorchamps in Belgium and the private Ascari track in Spain.
Members will also receive access to the Auto Lusso Supercar Club and the Classic Car Club Fleet.
Membership to the club will set you back £17,495, although you can sign up with a friend for £11,250 each; either way it's probably best to get saving.
For further information on the Academy go to www.rs-academy.co.uk
Extra Info