Latest issue of evo Magazine
BMW M3 birthday celebration: ultimate group test, new GTS supercar driven, and the legendary racers. Ferrari 458 Italia track test, muscle car group test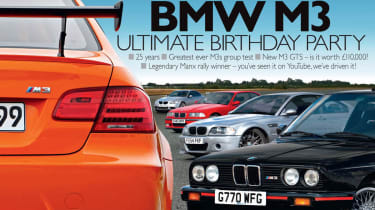 NewsSquint into the rising sun and you can see a new MX-5 and a mid-engined Honda roadster coming
DrivenFirst drives of the Mercedes-Benz DR520, QT Wildcat R300, a tuned Mercedes SL65 Black, the Porsche 911 Powerkit, Mini Countryman, Jaguar XJ diesel, Suzuki Whizzkid and more...
LettersPolice behaving badly? One reader reckons he's got them bang to rights
BMW M3 GTS drivenThe hardcore new GTS is being built in very, very small numbers and each one will cost twice as much as a standard M3, so it ought to be a bit of a knee-trembler. Chris Harris takes one on track and finds out whether it lives up to its billing
Ultimate BMW M3 Group TestE30 Sport Evo, E36 Imola Individual, E46 CSL and E92 Competition – Richard Meaden decides which is the tastiest E-number
Patrick Snijers back on the Manx RallyIt's friends reunited as the Belgian rally driver gets back behind the wheel of a Prodrive E30 M3 rally car  on the Isle of Man
E30 M3 DTMWe show you the reason for the homologation of the original M3
Ford Mustang v Chevrolet Camaro v Vauxhall VXR8 v Cadillac CTS-VThree Americans and an Aussie invade our shores wielding V8s Pagani Zonda R Nurburgring RecordThe road to the record is not smooth or straight, but it is quite exciting
Long-term testsTwo rare beasts reported on this month: a Yeti and a black V8 Capri
Buying GuideMorgan is famous for its waiting list, so why not skip the queue and buy a second-hand Aero 8?Ferrari 458 Italia Track TestWhere will the Ferrari 458 Italia sit on our West Circuit leaderboard?
Ask the ExpertsWas the old Focus RS good or bad?
Me & My Car: Tonino de Paola & his F430Haircuts (and patience) got him his dream Ferrari