Schumacher drives F1 car at Nurburgring
Seven-time Formula 1 world champion Michael Schumacher will mark his career end by lapping a 2011 Mercedes F1 car round the Nurburgring Nordschleife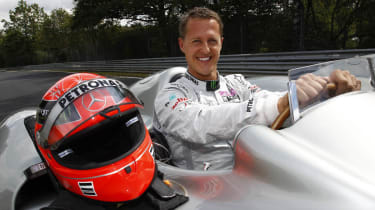 Seven-time Formula 1 world champion Michael Schumacher is to drive a 2011-spec Mercedes F1 car around the Nurburgring Nordschleife next month.
The 44-year-old, who retired from Grand Prix racing for the second time at the end of 2012, will run the demonstration lap on Sunday May 19, prior to the start of the Nurburgring 24 Hours, which runs on a 15.7-mile combination of the Nordschleife and the current GP circuit.
Schumacher is running the demo as a thank-you to his fans in his native Germany, at the end of a 307-race Grand Prix career that yielded 91 race victories, seven world titles and almost every significant record in the sport. He said: 'I have a lot of fond memories of the Nurburgring and am really looking forward to giving fans and friends from my home town of Kerpen, which is quite close to the Nurburgring, something to remember as they see me drive by.'
Schumacher will become the second driver to pilot a contemporary F1 car around the Nordschleife since its removal from the Grand Prix calendar following Niki Lauda's near-fatal accident in 1976. Nick Heidfeld was the first, driving a 2006-spec BMW Sauber around the course as part of a VLN race meeting in April 2007.