2014 British Touring Cars season launch
Seven former champions will fight for the 2014 British Touring Cars crown, with a return for Alain Menu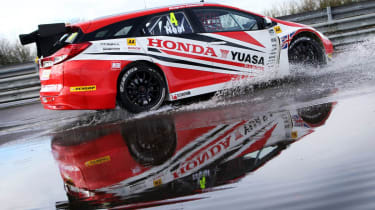 The 2014 British Touring Cars season has launched. It is the first season where every car will run to NGTC rules, the Next Generation Touring Car specification which has been gradually introduced to the series over recent years.
There's also a bulging 31-car grid, with a diversity that stretches to 14 models from 11 different carmakers. Official manufacturer entries from Honda and MG return, while independent teams bring Audi, BMW, Chevrolet, Ford, Mercedes, Proton, Toyota, Vauxhall and VW to the field too. Most talked about is Honda's ace Civic Tourer estate entry.
The most exciting aspect, though, is how fiercely fought the season looks set to be. There are seven former champions – nearly a quarter of the grid having previously lifted the title – with touring car icon (and champion in 1997 and 2000) Alain Menu returning in a Team BMW VW Passat, a move which may excite fans of from the BTCC's bustling 1990s period. The Swiss driver is now 50 years old. Fabrizio Giovanardi, champion in 2007 and 2008, also returns, piloting an Airwaves Racing Ford Focus.
The other five champions are racers carrying on from 2013 campaigns – Jason Plato (the BTCC's winningest driver), Matt Neal, Gordon Shedden, Colin Turkington and reigning champ Andrew Jordan.
The 2014 BTCC season kicks off on March 30 at the Brands Hatch Indy layout, returning to the Kent circuit's bigger GP layout for the series finale on 12 October.