Nissan and Mardenborough promoted to Le Mans podium
Nissan and British driver Jann Mardenborough graduate from fourth to podium in Le Mans LMP2 after a disqualification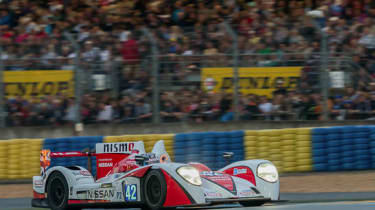 Nissan's Jann Mardenborough, Lucas Ordonez, and Michael Krumm have been promoted to third place in Le Mans 2013's LMP2 class following the disqualification of the G-Drive Racing Oreca Nissan, run by the Delta ADR team.
British driver Mardenborough was evo's emerging talent of 2012, and finished fourth in the LMP2 class last weekend. He and his teammates have been promoted to the podium, however, following the disqualification of the Delta ADR car driven by Roman Rusinov, John Martin and Mike Conway, its fuel tank over the class limit of 75 litres. The team has confirmed it will appeal.
Mardenborough therefore looks to gain a podium finish on his Le Mans 24 hours debut. He entered motorsport via the Gran Turismo-based GT Academy, and has previously raced with evo's Richard Meaden at the Dubai 24 hours.
Richard was very impressed with the young driver's ability, stating 'It's impossible to overstate how good Jann is. He's clearly a natural driver, but he's also analytical and totally composed. I think some people thought he might have reached a plateau in his learning curve by now, but the way he performed at Le Mans in some of the toughest conditions most seasoned drivers can remember shows he's still on a near-vertical trajectory'.
Mardenborough competed in the British GT Championship in 2012, before taking part in the GT3 series and Blancpain Endurance Series. In 2013 he participated in the Toyota Racing Series before going into Formula Three and finally debuting at Le Mans for Nissan. Following his impressive showing at Le Mans, it was announced yesterday that Mardenborough will also complete in the Spa 24 hours with Nissan.