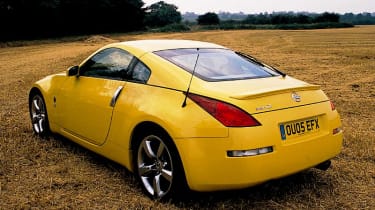 It's always good to have a 350Z knocking about the place, especially if it's the Anniversary GT4 variety with the extra 20bhp. Unlike the fairly subdued blue hue of our previous long-term Zed, this one is eye-searingly yellow; if I were buying one of these, this would be the colour I'd choose, although it has to be said that on an empty dual carriageway you do feel a bit of an easy target for those lovely chaps with radar guns.
We're not the first keepers of this particular Zed. Previously with Nissan's press garage, it's done the rounds of magazine road tests and was delivered to us with 6688 miles on the odometer. Those would have been hard miles, too, judging by the state of its Bridgestones and the fact that the brake pedal seems mushier with light applications than I remember from our last car.
There are other signs of a tough life, too. The fuel filler flap release button has been dislodged from its home on the lowest-flung corner of the facia, the driver's seat's leather is showing the strain of countless road test folk clambering in and out, while the windscreen looks as though someone tried to remove bugs from it with a strimmer.
More annoying is the fact that the nearside headlamp unit has filled with condensation, although I can't find a stone-chip that might have let water in. The amount of condensation seriously diminishes the effectiveness of the headlight, to the point where I genuinely believed that the light had failed completely. My tiny local Nissan garage is ordering-in an entire replacement unit under warranty.
There, I'm done with the grumbling. The rest is all just good news. What I find so appealing about the Zed is that it's a bit gruff and rough around the edges; you know that Nissan has the ability to make very refined cars, so the fact that the Zed has been left free to growl and rumble shows that Nissan understands what sports car fans really want. It has just enough of the brute about the way it accelerates and steers and handles and sounds to make it a satisfying and stimulating drive, without grinding down your tolerance levels on long journeys.
The GT4 version of the Zed obviously has a lot of cred with the modified Japanese boys, with lots of thumbs-upping and headlamp-flashing. Even some of my friends who have little interest in cars (yes, I know, I should find new friends) have been asking questions about how it drives. As ever with the evo Fast Fleet, we're also keen to hear from readers running cars similar to our own and by now there must be a small library's worth of knowledge amassed on the Zed. So if you've got something to say on the subject of your 350, drop us a line at fastfleet@evo.co.uk
Running Costs
| | |
| --- | --- |
| Date acquired | August 2005 |
| Total mileage | 8718 |
| Costs this month | £0 |
| Mileage this month | 2030 |
| MPG this month | 27.6mpg |