Nissan 370Z
Nissan wants you to have fun with its 370Z, but when the roads are dry it's not a terribly playful companion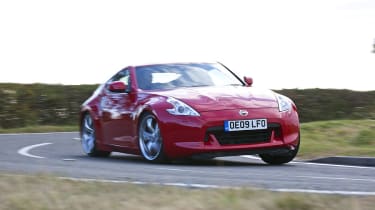 Mizzle, sleet, drizzle, hail, summer rain, heavy rain, Wimbledon rain, soft refreshing rain, freezing rain, precipitation, the sort of rain that waits for you to get halfway through Allen-keying the roof off a series 1 Elise. Whether it comes in a downpour or a shower, the English language has a way of describing it, but as long as it makes the roads damp I don't really mind what it's called. You see, I have come to the conclusion that the 370Z is at its best when the roads turn slippery.
I don't think it's a coincidence that Nissan has placed the big 'ESP off' button so easily to hand. There are no hoops to jump through, no VW-type pretending-to-be-off-but-actually-on mode, just one press and you can tie yourself in knots to your heart's content. Nissan wants me to have fun in the 370Z. The trouble is that in the dry it's not a terribly playful companion. When the roads are warm and tacky the 370 feels just a bit uptight and uneasy with itself, not helped by suspension that has slightly too much rebound in the damping. Grip at the rear is tenacious and, unlike the old 350, which used to almost lugubriously roll into oversteer, the new car needs a brutal stab of the throttle at high revs to get the tail to unstick. When it does break free from the Bridgestones' hold it's a bit of a scratch card as to what will happen. Sometimes the limited-slip diff stays locked for long enough to get the tail to a decent angle and hold it, other times it locks then starts slipping almost immediately, meaning a spinning inside rear wheel, a noisily revving V6 and no oversteer, which isn't very satisfying.
But, when the sky starts leaking, it doesn't matter what mood the diff is in. Because the grip levels are lower, you're hardly leaning on the suspension when you start sliding, effectively making the car very stiff and very reactive to any inputs to the sensitive throttle (it's actually a bit too sensitive when you're just pottering around town). One blip to get it sideways, put the lock on quickly to hold the short wheelbase, then play with a tiny amount of throttle travel to keep the wheels spinning or smoothly bring it back into line. That's the theory, anyway, and excitingly I've discovered a new road I can take on the way home from work to practise on.
All of which means that I'm delighted autumn is here and even more thrilled that winter will be hard on its heels. To be honest I'm keeping my fingers crossed for a bitterly cold spring too (safe in the knowledge that I have heated seats).
Running Costs
| | |
| --- | --- |
| Date acquired | July 2009 |
| Total mileage | 4890 |
| Costs this month | £0 |
| Mileage this month | 1439 |
| MPG this month | 26.4 |