Land's End, mid-day, December 5th. Henry Catchpole has 24 hours to drive to John O'Groats without using a single motorway. That's virtually 1000 miles, and the weather forecast is for snow. To even things up, he's got the latest, 542bhp, 4wd, twin-turbo Nissan GT-R. Start the clock!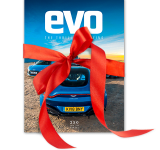 Subscribe to evo magazine
If you're passionate about the world's greatest performance cars, experience the thrill of driving with evo magazine. Try your first 5 issues for £5.