Nissan GT-R 45th Anniversary Limited Edition
Nissan has confirmed it'll be producing a special, limited edition GT-R to celebrate the name's 45th year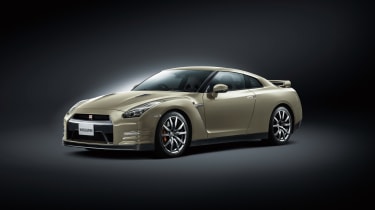 Nissan has launched the GT-R 45th Anniversary, a limited-edition version of its ballistic GT-R to celebrate the famous designation turning 45.
Despite initial plans to sell the car in Japan alone, Nissan has revealed that examples will reach other countries too. Just five will make their ways to UK shores, priced at £79,780. That puts it around £1700 more than the entry-level GT-R.
The 45th Anniversary GT-R is based on the 2015 model, which Nissan says 'features ride quality that has been specially tuned to exhibit a more mature, better refined feel.'
Those hoping to see another track weapon like the Nismo GT-R will be sorely disappointed, as the only change made to the all-wheel-drive monster has been the paint job. The paint colour, named Champagne Gold on the UK market, is the same colour that coated the R34 Skyline GT-R M-Spec when it was unveiled back in 2001.
No external or mechanical alterations have been made to the anniversary vehicle, meaning that the 3.8-litre V6 twin-turbo still punches out a meaty 542bhp and 465lb-ft of torque. Power is still delivered to all four wheels, while rapid shifts are taken care of by the six-speed dual clutch transmission. If you'd like to see how well these figures stack up against the mighty 458 Speciale on track, check our track battle out.
Inside, the car gets Premium Black trim and a 45th Anniversary Limited Edition placque low on the centre console, and a bespoke plate in the engine bay with the car's limited edition number.
Orders for the limited production run of 100 cars began in January 2015. In its native Japan, pricing starts at 10,787,040 Yen, equating to just £57,500 - rather less than the near-£80,000 tag it wears in the UK.