Nissan GT-R buying guide
GT-Rs are now going for £35k, that's a lot of performance for your money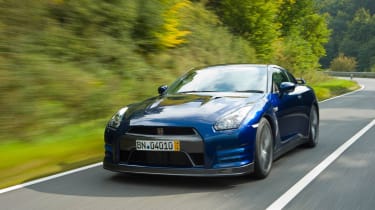 It's January 2008, and evo has got its hands on the first GT-R to land in Europe, but what to do with it? Any conventional group test seems futile because, quite simply, there's nothing else on earth quite like it.
Engine
Beneath its square-jawed bodywork, this GT-R packs an unprecedented arsenal of performance hardware: a twin-turbo 3.8-litre V6 generating 473bhp and 434lb ft of torque, a six-speed dual-clutch paddle-shift transmission, ATTESA ET-S four-wheel drive, Vehicle Dynamics Control, adaptive dampers and onboard telemetry. Nissan claims 0-62mph in 3.8sec and a top speed approaching 200mph. The only car seriously comparable in performance is the £100k 911 Turbo, but the GT-R is quicker around the Nordschleife – and costs just £56,795.
In the end, we give up trying to put together a conventional test. We go to the drag strip for a 0-100mph-0 shootout with a £62k, 505bhp Corvette Z06, which is 322kg lighter and more powerful; the GT-R beats it. Then we take it to our favourite roads with an Audi R8 for company; the GT-R makes it feel 'weedy' and a generation behind. Finally we put it on track against a 911 GT3; the Nissan crushes the Porsche, slotting into our lap-time table just below the Ferrari Enzo. 'Respect is due,' we conclude. 'Big respect. Nissan has built a new performance icon.'
So how is the icon faring four years on? And is all that hardware and tech a boon or a liability? Iain Litchfield, boss of Japanese car specialist Litchfield Imports, helps fill us in.
The first thing to know is that there are no mechanical differences between Japanese and European-market cars, and all were subject to the same upgrades introduced with each new model year. However, when the first 'official' cars arrived in the UK in April 2009, the launch control was disabled (though the really determined could effect a 'cheat' and risk jeopardising the warranty in the process). These first cars came without satnav and had a lower-resolution central display, both issues that were rectified later that year. For 2010, there was a hike in power to 485bhp, improved exhaust flow through less restrictive cats, additional vents in the diffuser for better gearbox cooling, improved gearbox bushing/mounts, and upgraded satnav and stereo.
Performance
But the biggest changes came for 2011 with the facelifted GT-R. Power reached 523bhp and the gearbox software was significantly updated, providing a much smoother drive and more 'intuitive' gear-changing in Auto mode. 'This has become a hugely popular upgrade for us,' says Iain Litchfield, 'as we're able to program the new software into the earlier cars.' Nissan also introduced a proper launch control system (LC4), which could be used without affecting the warranty. Suspension tweaks also gave much improved ride comfort compared with early cars.
Further changes for 2011 included a larger front grille, daytime running lights, improved engine cooling, larger turbo intake pipes, revised intercooler piping, scuttle panel bracing, a carbon front strut-brace, 390mm front discs (up from 380mm), increased sound-proofing and better interior trim.
Power hikes
Finally, the 2012 model year brought yet another power hike, to 542bhp, plus revised suspension and a small improvement to the gearbox and launch control software. For an extra £10k you could now have the Track Pack Edition with brake cooling ducts in the front lip spoiler, cooling vanes for the brakes on the front and rear suspension arms, Nismo alloys, retuned suspension, 'high grip cloth' front seats and no rear seats.
There's also the rare Spec V model, with a titanium exhaust, reworked suspension, carbon-ceramic brakes and 60kg trimmed from the kerb weight. It cost around £50k more than the standard car new, which was generally thought to be too much – especially without any increase in power.
Which brings us to tuning. Many GT-Rs have been modified – some road-going cars running as much as 800bhp. The good news is that the GT-R appears to be fantastically well-engineered and takes even these sort of power increases in its stride, though being such a heavy car, there's a commensurately heavy price to pay in tyres, brakes and fuel if you use the performance to the full.
And use it you will, for no other car, save perhaps for a 911 Turbo, makes true supercar levels of performance as accessible as a GT-R. And for as little as £35k, right now it's looking more than ever like the biggest performance bargain on Planet evo.
'I bought one'
David Yu
'I took delivery of one of the first UK R35 GT-Rs in April 2009, having sent my deposit to Middlehurst Motorsport 18 months earlier. Initial impressions were that it was massively capable. Even whilst running it in, it was one of the quickest cars on the road, and when fully unleashed it was devastating. But the ride was jarring and the noise anodyne.
Servicing was on a six-monthly schedule, but I had no hesitation in sending mine up to Middlehurst Motorsport as they're the most experienced GT-R dealers in the UK.
I only lasted two months before sliding down the slippery slope of modification, starting with a Milltek Y-pipe that gave the GT-R the voice that the factory system stifled. This was soon followed by a Cobb Accessport with GTC remaps, and over the next three years there followed further mods including an Akrapovic titanium exhaust, Alcon brake discs, GTC air intakes, ID 1000 injectors and lots of carbonfibre frippery.
It has been faultless running at over 600bhp for three years and is the consummate all-rounder. I've owned some outstanding performance cars over the years, but the R35 GT-R is the best of the lot by a massive margin.'