Next-generation Nissan Juke teased before reveal in September
Nissan's original odd-ball SUV to finally get a full makeover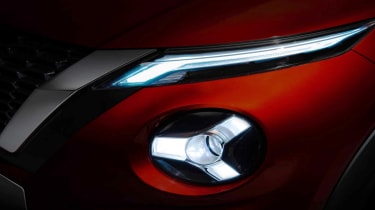 Despite being a hit for Nissan, it has taken a rather long time getting the all-important second-generation Juke on the road, but after nearly 10 years the all-new model is within sight. Built on an all-new platform too, with new powertrains and a brand new exterior and interior design, Nissan is hoping to capitalise on the first Juke's success with this newest model, due for reveal on September 3.
Its foundations are drawn from the recently revealed Renault Captur. As a result, this new Juke will feature a combination of three- and four-cylinder petrol and diesel powertrains, connected exclusively to the front wheels. Mild and plug-in hybrid models are also shoe-ins, but of less certainty is a replacement for the sporty Juke Nismo, a model that some loved, and others hated in our experience at evo.
> Click here for our review of the Nissan Juke Nismo
Still, the new model should feature a significantly better driving experience than the previous one, not to mention improvements in efficiency, practicality and safety. Another area likely to show big strides forward is interior design and tech. As the whole car industry converts to entirely digital interfaces, we suspect the Juke will be no different, with large touchscreens, possibly borrowed from its French platform mates. 
Design-wise, the teaser image released confirms the suspicion that the new Juke will keep its split headlight arrangement, a trend it helped to create, but sit on a blockier interpretation of the previous model's aesthetic, with perhaps a contrasting floating roof and colour-coordinated wheel set to keep it in line with nearly all of its contemporary rivals.
And that's perhaps where the Juke's biggest issue might lie. It's huge popularity in the early phase of its life was perhaps a customer response to a gap in the market, as at the time it had few direct rivals to contend with. The present is a very different proposition for the sub-compact SUV, however, with nearly all mainstream manufacturers having a direct rival for this next-generation Juke, meaning success equal to that of the original is far from a foregone conclusion.