Skyline. It's such a familiar term amongst car enthusiasts and conjures strong images and even stronger reactions. There are lovers and haters. The former, as is so often the case, fuel the fire of the latter. They're almost religious about the big, complex Japanese coupe and their fanaticism is matched by the blind rage that characterises those who take against the Skyline. 
Of course, I'm talking about the Skyline GT-R, the car that arrived in 1989 with four-wheel drive, four-wheel steer and twin turbochargers, and then evolved through two more generations and endless refinements. The car that swept all before it in Group A touring car racing and was inevitably banned. But the Skyline we're driving today couldn't be more different: small, light, rear-wheel drive and without even power steering. And everyone seems to love it. This is the 1971 Skyline GT-R. Also known as a KPGC10 or, for many, simply Hakosuka ('hako' for box-shaped, 'suka' as an abbreviation of Skyline in Japanese).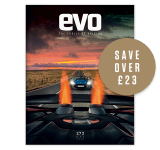 Subscribe to evo magazine
Subscribe today to have every issue of evo delivered straight to you. You'll SAVE 39% on the shop price, and get evo for its original cover price for a whole year!
The early Skyline story is complicated and littered with all sorts of codes unintelligible to the uninitiated. So much so that I hesitate to try to explain it all for fear of evo's offices being razed to the ground by those who like to quote chassis numbers. Anyway, for the good of the story, here goes…
The Skyline was actually launched by the Prince Motor Company in April 1957 and featured a 1.5-litre four-cylinder engine with a heady 59bhp. In 1964 the Prince Skyline GT (S54-generation) was created and a seed of something special was planted. This new model took the 2-litre 'G7' straight-six from the bigger Gloria saloon and was devised to go racing. Prince built 100 road cars (S54A with a single-carb 104bhp engine and S54B with triple carbs and 123bhp) and turned up at the 1964 Japanese GP at Fuji to contest the GT-II race. 
The Skyline GT was a narrow, square-edged saloon but in race tune it produced 163bhp at 6800rpm and weighed 990kg. It was fast. So fast that for one glorious lap it headed the Porsche 904 GTS that would eventually go on to win the race, while Skyline GTs finished in positions second to sixth. Tetsu Ikuzawa's overtake on the 904 GTS became the stuff of legend and, perhaps, the Skyline myth was guaranteed. In 1966 Prince merged with Nissan and the former was quickly phased out. 'Skyline', of course, couldn't be erased so easily and in '68 a new generation – the C10 – was launched. The now iconic GT-R badge was created in February 1969, attached to a four-door Skyline fitted with a 2-litre, 24-valve straight-six engine (called the S20) related to the GR8 motor seen in a mid-engined prototype, called the R380, that had finally vanquished Porsche (now with the 906 GTS) at Fuji in '66. That first Skyline was called the PGC10 and in March 1971 it was joined by a two-door coupe version: the KPGC10. In Japan, the GT-Rs enjoyed a period of complete domination, winning 50 races in two years and ten months with 49 victories consecutively. 
Okay, so now you're up to speed. Or horribly confused. What you need to know is that this particular Skyline GT-R coupe was built in August 1971 and arrived in the UK in January 2016 thanks to the expertise and persistence of Torque GT, who hunted down and imported the car for new owner Ian Griffiths. That double-overhead-camshaft S20 engine produces 158bhp at 7000rpm and 131lb ft at 5600rpm and the car weighs around 1100kg. It features struts up front and a semi-trailing-arm arrangement at the rear, a five-speed manual gearbox and a limited-slip differential. There's no power steering, the brakes are unassisted (and feature rear drums) and it looks, well, boxy. But these cars are rare and highly sought after. You want one? Be prepared to pay six figures.
So this is it. The beginning of the GT-R story, laid out before us on the windswept North York Moors. Out of context, certainly. But still it's an intriguing shape and I can't wait to find out if this car lives up to the legend and maybe even trace the DNA I know so well from the modern GT-R and the Skyline R32, R33 and R34 generations. In size, this Skyline is not dissimilar to an E30 3-series, but it packs plenty of presence into a relatively small footprint. Firstly, it's very low. Older cars tend to have massive wheelarch gaps and look like they're on tiptoes, but the GT-R squats low. The tacked-on black wheelarch extensions at the rear add a sense of muscle and the extreme negative camber is a clear indication of this car's authentic motorsport pedigree. Of course, there are other details that could only feature on a Japanese car. The peculiar little black plastic mirrors mounted way down the wings towards the nose of the car, the strange rear spoiler that nearly butts into the curvature of the bootlid… It's only right and proper that this thing should have its own foibles, like all the best Japanese machines. Back in '71, as now, the GT-R trod its own path. 
Before I get in, I want to look at the S20 engine. It's a real treat: crackle-black in finish and marked with the firing order '1.5.3.6.2.4', burnished coppery-blue exhaust headers gripping it on one side and the triple side-draught carb setup on the other. It's set so low too, the top of the cam covers miles below the bonnet shuts. For me, the Skyline story has always started with the R32 and I'll admit I'm nervous about driving the KPGC10. It's so revered in certain circles and yet, I have suspected until now, it might not be that good to drive. That lovely straight-six mounted way down low gives me hope, however. It revs to 7500rpm, too. 
Inside, expectations continue to rise. The small bucket seats aren't quite as snug as I'd like, but the centre sections in textured, almost rubberised material literally stick me in place. The lovely little three-spoke steering wheel is a bit of a reach away and the end of the footwell slightly too close (although the pedals are well spaced and feel substantial), but the car feels small, airy and like it'll be easy to manage. The lovely cylindrical shifter for the five-speed manual 'box feels perfect, nestling into the palm of my hand with a lovely cool tactility. A couple of exploratory shifts reveal a long throw but a narrow gate and a slightly indistinct feel. So I give the heavy throttle pedal one big push, release and then twist the key and push the throttle halfway down again. The S20 fires quickly and it's not rorty and rough but smooth and busy. I knew this car had a straight-six but still the cultured, turbine-like note with a wicked rasp layered over the top is a surprise. 
It takes a bit of coaxing and clutch-slip to get the GT-R off the line without the engine bogging, and boy is the steering heavy at low speeds. Like all the GT-Rs I've ever driven, it's a physical experience. As speeds rise, the Hakosuka continues to test your commitment. You know how all old cars feel soft and floaty? Even stuff that was criticised for being too stiff when new generally feels slightly lacking in control by today's standards. Not this Skyline. As far as Ian knows, it's running on standard suspension (although the rear ride height looks lower than standard to me) but it hops, skips, bounces and rattles across the moors. It feels as uncompromising as a modern GT-R Nismo, which is a real surprise. On top of the steering effort, which remains high even at speed, and the unassisted brakes, this Skyline never lets you relax. In fact, it can feel like it's beating you up rather than encouraging you to drive harder to discover its true character. 
Even so, it's hard not to smile. The engine really is this car's heart and soul, and despite not venturing to the 7500rpm red line due to the car burning a bit of oil and being scheduled for an engine rebuild, the smooth character and ever-fiercer delivery as the revs start to pile on above 5500rpm is highly addictive. I'd love to wring it right out and feel the fire at the top end and hear the legendary high-pitched howl of the S20, but that can wait for another day (Ian is an exceptionally kind chap and will let us into it again post-rebuild). Even reined-in slightly, the S20 has real character. Beneath the aggressive suspension settings, the chassis feels pretty good, too. 
Modern 195- and 225-section tyres actually provide loads of grip, and with the rev restriction we're using, there's no scope for power oversteer on this coarse, grippy surface. In fact, the Skyline just digs in and sticks to its line. Body roll is very limited, understeer pretty much non-existent. So you can just throw the car at a corner and then jump straight on the throttle. 
As your confidence goes up, so the Skyline starts to show a bit more of its playfulness. In longer, third-gear turns, you can feel the rear wheels start to gently break free and push the fronts right into the apex. It doesn't require proper correction, just a gentle loosening of the lock to maintain an equilibrium, but it's a sense at least of this car's excellent balance, which I'm sure would be revealed fully on a track, and 7500rpm with which to play. For the good of the camera – and my ego – I do try the old turn-lift-full-power trick and, sure enough, the tail loosens, such is the turn-in grip. The straight-six then has just enough power to push it wide and hold it there for a few brilliant moments. The diff doesn't feel like it's locking very effectively, but the Skyline is benign beyond the limit.
Benign but with fast reactions and requiring the same of the driver. This is not an old-fashioned car that breaks away easily, floats beyond the limit and makes you feel like a hero at 40mph. It has grip and agility, is physical and uncompromising, and the control weights all have a surprising degree of heft – from the steering to the brakes and gearbox. Sound familiar? 
Now, I'm not going to pretend that a small rear-drive coupe built in '71 feels the same as a four-wheel-drive, twin-turbocharged monster from the '90s or has the sheer eye-widening lunacy of the R35-generation GT-R, but there's no question it has a similar sense of unerring focus. In truth, it's not built for the fast, ragged roads that flow like forbidding rapids over the moors, but there are moments even here where you can feel why the Skyline GT-R was so effective and successful on the racetrack. It has an intrinsic athleticism that you feel with every turn of those RS Watanabe wheels. 
It takes a while but finally the wild wind blows away the thick blanket of light grey cloud and my final drive in the Hakosuka is in brilliant sunshine. I use just a few hundred revs more but it's enough for the exhaust note to climb a few octaves and sing its serrated song with seemingly twice the energy. I use the rock-solid body control to scythe cleanly through a series of S-bends and feel the balance shift to that gentle oversteering stance that it loves to adopt. The car still rattles and bangs, the rear axle hops and bounces over the worst lumps and bumps, but although clearly out of its comfort zone, the car rolls up its sleeves and gets stuck in. 
These last miles are a frantic experience, a million miles from the fleet-footed fluidity you might expect, but it's still hilarious fun and although I'm not one to prize a car for its rarity, there's no doubt that knowing the significance of this car adds something intangible to its appeal. It's the start of a story that's delivered us some of the most exciting and charismatic cars ever. The start of an adventure that would wend its way from Fuji to Spa and Bathurst with those unstoppable flame-spitting Group A cars, even on to Le Mans. It's the Skyline GT-R that everybody loves. For me the name 'Skyline GT-R' still means boost and ATTESA E-TS and Super HICAS and side-exit exhausts belching fire. But I can see why everyone loves the Hakosuka. It's quite a car. 
With thanks to Torque GT (torque-gt.co.uk) and Ian Griffiths