Chalk and cheese. Apples and oranges. Night and day. Six things with more in common than the Nissan GT-R and Lotus Evora Sport 410. And yet, this odd couple make a compelling pair. For although their differences in approach are clear and numerous, key similarities are there if you care to look.
At circa £80,000, both cost very similar money, and while the respective outputs of their forced-induction V6s are wildly different, physics applies its own parity via the power-to-weight ratios. Each has a supercar-challenging top speed of 190mph or more. Crucially, both cars offer an alternative take on established and more conventional rivals, with you – the driver – at the centre of their world.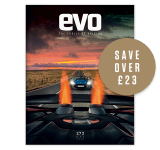 Subscribe to evo magazine
Subscribe today to have every issue of evo delivered straight to you. You'll SAVE 39% on the shop price, and get evo for its original cover price for a whole year!
No question, these are individual machines. Cars with characters as distinct and disparate as the cultures from which they were born. They've both been round the block, too, the R35 GT-R being launched in 2007, the Evora in 2009. In that time each has evolved through numerous iterations to get to this point; a point where the Nissan has been made more civilised and the Lotus more hardcore.
Before we get into the driving, it's worth looking at how these latest 2017MY models have changed. The GT-R's tweaks are less extensive, but promise to have a significant effect on the car. Aero and styling mods have improved cooling and given the basic GT-R a look that borrows from its extreme Nismo brethren. There's a bit more power (20bhp to be precise, giving 562bhp) thanks to an increase in boost pressure higher up the rev range, though the big Nissan has never been short on poke. It's the suspension that has come in for the most significant changes, with a move towards much increased pliancy in all three damper settings. It'll be fascinating to discover how these changes affect the notoriously iron-fisted GT-R on bumpy British roads.
Lotus has taken the opposite tack with the Evora Sport 410, by subjecting the car to a ruthless weight reduction programme. A carbonfibre splitter, front inspection panel, roof and tailgate, diffuser and rear quarter panels drop weight and the centre of gravity, while minimalist carbonfibre sports seats save 9kg. Junking the rear seats saves further vital kilos and gains a useful luggage area. There's also a lithium-ion battery and ten-spoke forged alloy wheels, bringing the total down to 1325kg – or 427kg lighter than the GT-R. An optional titanium exhaust (as fitted here) can trim another 10kg from that.
> Lotus Evora Sport 410 James Bond special edition
The Toyota-sourced supercharged V6 gets a tickle, too, gaining 10bhp from a new water-to-air chargecooler, bringing the total up to 410bhp. A more effective aerodynamic package lowers the drag coefficient, but doubles high-speed downforce. The dampers have been re-valved for increased compression and rebound. The springs remain unchanged, but the effective spring rate increases courtesy of the reduced weight of the car, and the ride height is down by 5mm. A Torsen limited-slip diff and a set of Michelin Pilot Sport Cup 2 tyres round things off.
Our intention is to compare both cars on road and track, but sadly the weather has other ideas; one of the mildest autumns in recent memory comes to an abrupt end the morning we head to the Bedford Autodrome to get some timed laps. Not only is it wet, it's cold. Like 4˚C cold, which is too chilly for warmth-loving Cup 2 compounds. Exploratory laps in both cars provide graphic evidence that there's no chance of generating representative or meaningful times, but it does offer the chance to explore – and exceed – the limits of grip and traction in safety.
> Nissan GT-R vs Porsche 911: which is fastest?
The GT-R has always been a car of contradictions, one with a reputation forged through motorsport success, but one that (to me) has never felt especially at home on track. Much of this is rooted in its apparently huge reserves of on-road performance. With speed limits to obey and other road users to respect, the GT-R fosters a sense of boundless grip and an unquenchable thirst for the horizon. Of course, you rarely get the chance to uncork it for more than a few seconds at a time, so taking a GT-R on track should be the perfect opportunity to gorge yourself on the forbidden fruits of all that power, torque and traction. What you don't bargain on, yet always arrives to spoil the party, are those pesky laws of physics the GT-R appears to sidestep so convincingly on the road.
At 1752kg the GT-R is carrying some timber. Not that you'd know it when your foot's pressed firmly on the throttle. But hit the brakes and work the steering wheel in an environment where you can really probe the car's limits and you become very aware of the forces at work. Wet conditions remove the brutality from the way the GT-R attacks a lap, but you still feel it fighting itself and the track if you attempt to bully it.
It's one of the great ironies that all-wheel-drive cars can be the most challenging to drive to their limits in tricky conditions. Part of that is because you're arriving at the corners carrying more speed, but it's also because they tend to do more things from turn-in to corner exit. The GT-R is no exception. Depending on how you prepare it for the corner it can exhibit turn-in oversteer or understeer, find its balance as you start to squeeze the throttle, fade to power understeer, build to a big, all-wheel drift or spike into full-on oversteer. Sometimes it feels like you get all of that in one corner.
Whatever it does, you need time and space for things to play out, whether that means letting the momentum bleed away or keeping it lit and letting the front and rear axles fight it out between themselves. It's a challenge with only occasional rewards. Mostly the GT-R feels cumbersome, a bit hit-and-miss.
Swap to the Evora and it immediately feels flighty and ultra-agile. Far from needing to cajole it, you quickly learn to ease it into and through the corners. This process of stripping back your inputs requires discipline and sensitivity, especially in these ultra-slippy conditions, but once you've gauged the Sport 410's front-end bite you can commit it to corners with precision and consistency.
The trick is to lean on the grippy, super-responsive front end just enough to initiate a hint of a slide from the rear, then gently pick things up on the throttle and balance the slide with some corrective lock and your right foot. It'll take a few goes for you to get a feel for the diff, but once you understand it favours early, progressive throttle play, you really can get the Evora dancing along a tightrope where slip just favours grip.
It's a more intuitive, more consistent process than in theGT-R. And while you don't get the explosive punch from corner exit and down the straights, it's more fun, too. It would be fascinating to see how these cars compare on a dry track, as Lotus claims the Sport 410 is three seconds quicker around Hethel than the Evora 400.
For now, though, we have the road element to look forward to. I stick with the Lotus as we head to our well-trodden test routes that traverse the Bedfordshire/Northamptonshire border. After slithering around the track I'm nervous as to how the cars will feel on wet roads, but with the Evora's Dynamic Performance Management (DPM) system set to Sport, there's enough of an electronic safety net to relax into the drive.
Lightweight cars always take a special kind of commitment from the driver and the pared-back Sport 410 is a case in point. The carbon seats may save 9kg per chair, but they aren't the most inviting things to look at. Nor are they hugely comfortable. The upside is you sit low in the car, which has a sense of occasion thanks to its spartan ambience. The driving position is sound and you get a nice view out over the arcing front wheelarches. The rearward view is almost non-existent thanks to the heavily louvred engine cover and lack of side windows aft of the B-pillar.
The Sport 410 has a choice of a six-speed stick-shift or six-speed paddleshift automatic transmission. Our test car has a stick so you still have the pleasure of working the Evora through the gears, even if the shift quality is a bit snaggy. The V6 is grunty and raucous, especially if you have the exhaust in its sport mode. Thanks to the generous torque delivery and light weight the Sport 410 is a quick car, even when you're not trying that hard. It just seems to want to settle at three-figure speeds, so you have to make a conscious effort to drive slowly.
As befits the Sport moniker, the Evora 410 feels firmer and more responsive than other Lotus models. There's still some pliancy to the damping, but the edges of the ride are sharper, its responses keener. The steering is quick – quicker than I expect and, to be honest, a little too quick for my liking. The Evora flows best and feels sweetest if you make small, smooth inputs. You seem to nudge it rather than pour it into corners, and because you spend less time applying smaller amounts of lock you have less time to get a feel for the grip and the car's responses.
There's no doubting the available grip, or how this translates into point-to-point pace, but it seems in chasing a more urgent, scalpel-sharp drive there's less of that supple, measured Lotus feel to savour. That said, you're always aware of the Evora's lithe build, in the way it changes direction, copes with crests and undulations and punches down the road. It's a wonderfully athletic machine with a uniquely focused way of doing things.
I've always enjoyed following cars in road tests; you often learn as much from watching the body language of a car as from driving it. Having spent many a mile watching mesmerised from the Evora as the GT-R shouldered its way along a fast B-road, it's fabulous to be able to overlay that mental image with the sensations you get from its driving seat.
The Nissan really is a force of nature. A big, bluff wedge of technology and mythology, its presence fills the road literally and metaphorically. The engine's deep, turbine-like howl melds with muffled transmission whine, and the whole ensemble hardens under load as you punch the throttle and feel yourself gripped by G-force and intense temptation.
Away from the track it's a different machine. One that feels so well within itself you immediately regain that belief you're impervious to the laws of physics. The way you can simply drop the Evora from your mirrors with a concerted few seconds of acceleration is startling, and still a major part of the GT-R's appeal. It's an absolute rocketship on regular roads.
The real departure for this 2017MY version is the suspension. In GT-R's of yore you'd basically get in, start the engine and immediately reach for the suspension switch and pull it down into Comfort mode, such was the firmness of the setup. In this car you can't quite believe how compliant it is in Normal mode, let alone Comfort, to the point where if you're out on the open road you're tempted to knock the dampers into 'R' to regain a proper sense of connection. The steering doesn't have the same responsiveness as before either, and seems to require a fraction more lock than you expect to get the nose nicely turned in. It's just a little bit woolly round the edges – something I never expected to write about a GT-R.
It's not a disaster, but it's not particularly confidence-inspiring in slippery conditions, especially as that extra fraction of steering input can then lead to the nose pushing a little wide of the mark. It's far from an understeering pig, but the GT-R's nose has always been so solid and locked down that it feels a bit spooky to not have 100 per cent faith in its ability to find some bite.
Verdict
It's commendable that Nissan has engineered a car that now has the suspension compliance to work well on a typical British back road, and therefore as an everyday car. It's just a shame that this more rounded ride comfort has come at the expense of driver connection and confidence. Not least because if you remove that physicality from the dynamic equation you simply become even more reliant on the GT-R's straight-line fireworks. And that sells the car short.
The logic in repositioning the entry-level GT-R as a less combative, more civilised and habitable car is sound, but it feels like a vital layer or two of connection has been lost.
And the Lotus? The Evora has always been a worthy, if confused car. Or rather the Elise and Exige have always felt truer to the Lotus brand. The Evora 400 was a big step in the right direction, and the lighter, sharper and considerably quicker Sport 410 shows Lotus playing to its strengths. Some have tagged it the GT3 of the Evora range, but that's stretching it. Not because the weight saving, aero work and chassis changes miss the mark, but because the engine and gearbox don't have the pedigree or reach to deliver genuine magic.
My head tells me the GT-R is the faster, more useable proposition. My heart tells me the Evora's focus and purity mean it's the one I would enjoy driving more. Unfortunately experience tells me the current turbocharged Porsche 911 Carrera S is more than quick, connected and composed enough to cover all those bases while adding a few tricks of its own.
Of course, a 911 would be the default choice for so many. One tantamount to heresy for the diehards who revel in the less obvious, more individual choices this pair represent. If forced to call a finishing order I'd say an intensely hardcore Lotus is more on-message with this magazine than a more comfortable GT‑R. But as each model enters its twilight years it's good to know they still deliver experiences worth celebrating.
Facts & figures
Nissan GT-R
evo rating: 4
Engine: V6, 3799cc, twin-turbo
Power: 562bhp @ 6800rpm
Torque: 470lb ft @ 3600-5800rpm
Transmission: Six-speed dual-clutch, four-wheel drive
Weight: 1752kg (326bhp/ton)
0-62mph: 2.7sec (claimed)
Top speed: 196mph (claimed)
Price from: £79,995
Lotus Evora Sport 410
evo rating: 4
Engine: V6, 3456cc, supercharged
Power: 410bhp @ 7000rpm
Torque: 310lb ft @ 3500rpm
Transmission: Six-speed manual, rear-wheel drive
Weight: 1325kg (314bhp/ton)
0-62mph: 4.2 sec (claimed)
Top speed: 190mph (claimed)
Price from: £82,000