'A classic British (and Italian) job will always be Meaden's kind of Mini adventure'
The Mini's handling and the sheer tenacity of its road-holding were revelatory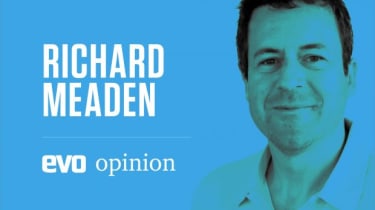 This year marks two significant anniversaries for petrolheads of a certain age. Namely 60 years since the Mini first took to our roads and 50 since The Italian Job first hit cinema screens. Though each predates me (the former by a comforting amount, the latter by fewer years than I care to acknowledge), both car and film had a tremendous impact on me during my formative years. Indeed, they not only shaped my deep love of cars but also steered me towards becoming a motoring journalist and predicated what I look for in a great driver's car.
Launched in the dying days of the 1950s, the Mini was a car that came to epitomise the '60s. Yet throughout the '70s, '80s and '90s, right up until the dawn of the noughties, it remained a cheery, iconic and idiosyncratic presence on our roads, transcending the conventional automotive ageing process in much the same manner as the Land Rover Defender.
> New Mini Cooper S review 2018 — has a mid-life update improved the package?
By the time The Italian Job premiered in London during the summer of 1969, some two million Minis had been built and sold. Stylish, classless and affordable, it was the car of the moment. And, as the hotted-up Cooper S versions had proved countless times, it was also all but unbeatable on racetrack and rally stage, not to mention uncatchable across the rooftops and through the streets and sewers of Turin.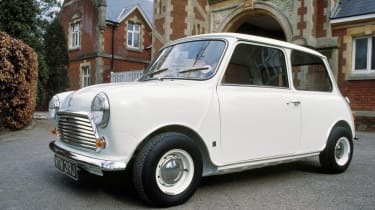 By 1976 some four million Minis had been built. By 1986, five million. They were everywhere, in all shapes (I still lust after a pickup), states of tune and sorry decrepitude – an unbroken thread that spanned generations. My grandmother had a very early example from new. My dad also owned one (and tuned it up) in his youth. I remember trips in the family Clubman (maroon, with teeny 10-inch Wolfrace slot mags; well, it was the '70s) and badgering my mum until she sold me her F-plate black Mini Mayfair, which I immediately de-striped, slapped some 12‑inch Minilites on and sank a fortune into making go faster.
Even so, I'm not quite sure what it was that ensured the Mini resonated with me so strongly. The cumulative effect of years of Italian Job reruns clearly achieved a degree of indoctrination, but I'm convinced it would all have been for nothing if the driving experience hadn't stacked up. OK, so it has a peculiar bus-like driving position, and in basic tune is in no way quick. I think 'nippy' was the phrase most associated with Minis back in the day. A bumpy road has you bouncing and jiggling around to comedic effect, and deep puddles invariably drown the electrics. At least until you learn to stretch a Marigold glove over the distributor and snip holes in the fingertips through which you feed the plug leads.
Yet despite the manifold (LCB, obvs; sorry, that's an in-joke for Mini people) shortcomings, the directness of the Mini's handling and the sheer tenacity of its road-holding truly were revelatory straight out of the box. Of course, the fact they were also ridiculously responsive to tuning helped massively, fuelling a sub-culture that thrived to the end of the 20th century and has risen to prominence once more thanks to the Mini's brilliance in historic racing. YouTube 'Nick Swift Goodwood' for ample supporting evidence.
What owning and driving a Mini taught me was it doesn't matter how fast you travel between corners, it's the speed you carry through them and the fun you have doing so that's most important. That belief has stuck with me to this day and, I suspect, will only get stronger as modern performance cars stray further from that deep-rooted Meaden manifesto. I'm convinced it's why hot hatches remain my default choice of long-term test car, for it is they that are closest to the Mini's magical mix of perfect packaging, exploitable, deployable performance, humble origins and everyday practicality. I love 205 GTIs and 106 Rallyes, assorted hot Clios, BMW Minis, and most recently the Up GTI, but I'm not sure any of them quite capture the exuberance and live wire dynamic energy contained within every 'classic' Mini I've ever driven. They are unique in this respect.
And as for The Italian Job? Well, its influence extends far beyond those red, white and blue Cooper Ss. The opening credits highlighted the allure of exotic Italian supercars and remains the source of the joy I feel at the very thought of driving along an Alpine pass. The phalanx of slinky black Fiat Dinos taught me that the less obvious cars are often the coolest, and the acrobatic stunt driving of Rémy Julienne and his L'Équipe Rémy Julienne team sparked a fascination for hooning and a sense that knowing how to skid around in cars was a life skill worth learning. So, if you've never driven one, try and get yourself a go in a proper old Mini. Preferably a Cooper S and ideally after watching The Italian Job, but any classic Mini will do as long as it's a manual and has been well looked after. Honestly, you'll be amazed. In fact, I'd go so far as to say it'll blow yer bloody doors off.