'The curse of a creak can really take the shine off a great car'
The mystery creak is the sole reason I've thought about selling it, or setting the damn thing on fire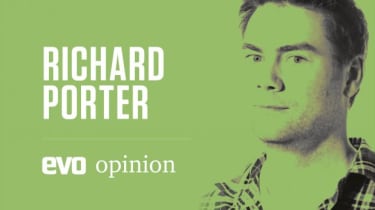 You might remember Paolo Cantarella. Ran Fiat through the '90s. Had the affable, bushy-browed appearance of perma-dog-collared actor Derek Nimmo. There was much that Cantarella did for Fiat during his tenure – not least signing off the Coupe, the Barchetta and that fruity five-cylinder petrol engine – but I'll remember him most for an incredible quote in a 1995 issue of Another Car magazine which was said to be the boss's motivational speech to one of his quality control people. 'If this car squeaks and rattles,' Cantarella is claimed to have said, 'I'm going to physically harm you.'
The car in question was the Bravo/Brava, which you'll recall had a split name because the three- and five-door versions looked quite different at the back and one of them had weird lights. Once, in the late '90s, I rented a low-powered Bravo that came with a constant tink-tink-tink sound that drove me bat-crap crazy until I realised it was the roof-mounted radio aerial gently dinking against the glass sunroof. I stopped to see if I could fix it, only to find the hinge at the aerial's base was too weak to hold it any further upright, and continued my journey wishing I had Cantarella's number so I could ask him to exert physical justice upon the man from quality control. It's rare for the CEO of a large manufacturing concern to hover the spectre of pain over one of their employees but, in fairness, I can see Cantarella's point. Squeaks and rattles in a modern car are deeply, deeply annoying.
The first brand new car I ever bought was also a Fiat and, as we drove away from the dealership, I was distracted by a faint but consistent rattling from deep within the dashboard. The dealer had the car back for a couple of days, pulled out big chunks of the interior and announced it was 'just a bolt that wasn't done up properly'. If Cantarella hadn't left Fiat by this point I'd have invited him to visit the quality control office wearing his best pair of strangling gloves.
The only other car I've ever bought new is a Land Rover Defender that clatters and tizzes a lot. Yet I don't mind this because it's part of the general soundtrack which marks the car's progress down anything but a velvety surface. Cars used to be like this, either because they had a separate chassis or because monocoque engineering hadn't reached the drum-tight stiffness levels of today. Modern cars built to modern standards are a different matter. All being well, nothing rubs or jitters or flexes like an old galleon in a swell. New cars are tight, and that means new cars are quiet. Which in turn means when there is a squeak or a rattle it's thrown into sharp relief. And this brings me to the problem with my ten-year-old Porsche 997. It's got all the taut, useable, steering feel-y 911ness in the usefully compact 997 shell. There's an awful lot to like about it. Apart from the mystery creak. The mystery creak has been there since I bought the car and is the sole reason I've thought about selling it or, in more frantic moments, setting the damn thing on fire while screaming, 'Creak your way out of that you groaning bastard!'
The mystery creak comes from somewhere in the back on the driver's side. At least, I think so. Unwanted car interior noises have a habit of throwing their voices, but I'm pretty certain this one is emanating from that general area. It might be the factory-fit bass box that sits behind the rear seats, though stuffing a load of cardboard around its edges did little to quell the constant cru-eerk cru-eerk as I drove along. Like a lot of annoying noises, once my ears tuned into the mystery creak it was hard to tune out again. There it would be as I padded through London. Cru-eerk cru-eerk. I'd be on a lovely B-road across the English countryside, feeding the 997 through bends with light fingertips, revelling in the way its natural weight distribution mashes the back tyres into the tarma… cru‑eerk cru‑eerk.
I searched for known 997 creaks on the internet, with no success. The garage where it was MOT'd couldn't find anything. Nor the specialist where it had its first major service. Cru-eerk cru‑eerk. I don't think they understood how annoying it was. Cru‑eerk cru-eerk. In the end I had to force myself to tune it out. Crank the stereo, let the 911's natural grainy background wash of road noise drown it out and just get on with enjoying the car. It is, in all other respects, a lovely car. But every so often I'll notice the mystery creak again and it'll take the shine off the otherwise delightful experience of owning my Porsche. A general cacophony of noise I can handle, but a solitary noise in an otherwise tightly assembled car is a deeply annoying thing and I don't know what to do about it. Where's Paolo Cantarella when you need him?