Four years, 1.2 million test miles, countless customer clinics, even more internal debates (probably the odd argument too) and the car with the responsibility of replacing a piece of British automotive furniture is finally here. Say hello to the new Land Rover Defender. 
You're right, it's not an evo car in the truest sense despite the test mileage conducted at the Nürburgring, where it posted a respectable sub-nine minute lap time, but it's likely that a Defender has played an integral role in many of our motoring adventures, so it only seemed fair that we gave it some of our time. And besides, it's not a new electric car.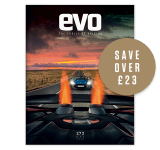 Subscribe to evo magazine
Subscribe today to have every issue of evo delivered straight to you. You'll SAVE 39% on the shop price, and get evo for its original cover price for a whole year!
Alongside a confirmed £40,290 starting price for the 90 variant, Land Rover announced that the first 110s will hit the road in spring, with the 90 arriving this summer.
Prices and engine range
What the new Land Rover Defender offers is a two product line-up, with the 90 (three-door, starting at £40,290) and 110 (five-door, starting at £45,240 and rising to £78,800). The commercial-body car will arrive next year complete with 18-inch steel wheels and a £35,000 (plus VAT) price tag.
Initially it will just be the 110 model that's available and this will be a three-pronged line-up consisting of the 110, the 110 First Edition and the 110 X. The 110 can be ordered with five-, six- or a five + two seating configuration, while the 90 will be available with a maximum of six chairs. Once the full range of models is offered it'll be an extensive line-up, with Defender, S, SE, HSE, First Edition and top-of-the-range Defender X models, and customers will be able to personalise their vehicle in more ways than any previous Land Rover with four accessory packs – Explorer, Adventure, Country and Urban.
New Defenders will be available with two petrol engines – the P300 and the P400 MHEV. The P300 is an in-line four-cylinder developing 296bhp at 5500rpm and 295lb ft of torque from 1500 to 4000rpm. It'll accelerate from 0-62mph in 7.7sec and top out at 119mph. The more performance orientated offering is the P400 MHEV – an in-line turbocharged 'six', complete with a 48V mild-hybrid system and electric supercharger. Vital statistics are 394bhp at 5500rpm and 406lb ft between 2000 and 5000rpm which makes it good for a 6.1sec 0-62mph time and a top speed of 129mph if fitted with the optional 22-inch wheels, or 119mph with lesser-diameter items. 
Two diesels will be offered, the D200 and D240, both using a 1999cc four-cylinder. The D200 develops 197bhp and 317lb ft of torque, while the D240 can muster 237bhp but sticks with the same torque output as the D200. In the five-door 110 Defenders 0-62mph times and top speeds are 9.9 and 8.7sec and 109 and 117mph respectively. The same engines will be found in the 90 version when that comes on stream with virtually identical performance figures.
Chassis and 4x4 transmission
Sticking religiously to the Land Rover's 'Best 4x4xFar' mantra, the new Defender features a permanent four-wheel-drive system, with a two-speed transfer box, centre and rear locking differentials and a new eight-speed automatic gearbox. 
Built on an all-new, 100 per cent aluminium monocoque platform, the new Defender has a wheelbase that stretches from 2.58 metres for the 90 up to 3.09 metres for the 110 – nine centimetres longer than a Discovery 5 – and features a flat floor to improve airflow and off-road capability. Some Defender owners might scoff at such modern construction techniques, but with the new platform being ten times stiffer than the equivalent body-on-frame technique it's impossible not to understand Land Rover's decision to switch.
Connected to the four corners of the Defender's new platform is an independent multi-link double wishbone suspension system for the front, with an integral link axle at the rear. Air suspension will also be offered as an option for the first time.
Brake by wire and traction control that's as adept at controlling off-road slip as it is the on-road variety, also feature. In the pursuit of developing the most versatile Land Rover off road, the company also believes it has created a far better car for the road. A range of wheels and tyres from 18 through to 22 inches will be offered, along with three types of tyres – all-season, all-terrain and professional.
Design details
It's what is fixed to the outside of the new Defender's monocoque that will, by the nature of all car design, create the biggest debate. It's designed to remind us of the original with the inset bonnet, letterbox windscreen, side-hinged rear door, front wings that fold over and meet the bonnet (those chequer plate inlays are, sadly, only decorative because the crash test regs wouldn't allow practical ones), over-square rear arches, clamshell roof and a spare wheel that, Land Rover says, was only ever going to be fixed to the outside of the car, providing the core Defender DNA.
Does it work? Design is always subjective, and while wishing to avoid clichés, it looks better in the aluminium and steel than in the pictures. The 110 looks better proportioned, with a strong suggestion of Discovery 5 in the profile, but it has the appearance you'd expect a 21st century Defender to have. It's not overly brash, retains that functional and purposeful look, but adds a considerable layer of luxury and sophistication you'd perhaps expect from a Range Rover. 
The 90, on the other hand, looks to have a bit too much caricature about it, the details looking exaggerated, the proportions a little overblown. Perhaps away from the bright lights of a motor show stand it will sit better. Both, however, have rather busy surfaces on their flanks, particularly towards the rear. There's also an odd square of plastic where the traditional C pillar would be located, and while it breaks up the large expanse of glass it does look to be an odd add-on. It can be deleted from 110-spec models but can't be removed from the 90 model. 
Across both models is a large amount of gleaming, painted plastic bodywork where you might expect a harder-wearing surface. Three of the four option packs – Adventure, Explorer and Country – offer tougher, more traditional materials at a cost, but the Urban pack will keep the paint shops busy if the damage is too much for the self-healing wrap Land Rover has developed to protect the bodywork from minor scrapes and brushes with the scenery.
Interior, technology and accessories
Inside? The Defender is the most connected car in Land Rover's product line-up, Range Rover included. Each Defender is born with an identical virtual twin that stores the physical car's identity and software, so that each time the factory needs to update a piece of software it's initially sent to the virtual car, which then connects to its twin and performs the upload. Any software update is carried out using a dual banking system, which means the user can continue to use the original software while the new one is downloaded and installed. 
The new Defender's infotainment system is based around Land Rover's latest hardware called PIVI. It's designed to mimic the functionality of a smartphone and Land Rover's software engineers have created a system that requires just a single touch of the screen to execute every key function, rather than forcing you to dive into endless sub-menus. There's even new satnav software.
PIVI is linked to the instrument cluster and the head-up display (ever thought you'd see one of those in a Defender?) and allows you to control the Terrain Response system, which has been thoroughly overhauled to suit the Defender's requirements. It means you can configure the diff, throttle and steering settings or select the new Wade mode that pre-conditions the ride height, diff loads and the air conditioning recirculation for a damp adventure. And when it detects that it is out of the water it gently applies the brakes to dry the discs. There are also four HD cameras to provide a 190-degree view. 
The Defender's interior design pays homage to that of the original with plenty of exposed metal, in this case the structural magnesium bar the facia is fixed to, metal fixings and grab handles that double as a ladder should you find yourself in a position where you need to climb out of the car. There's even an option to have three front seats.
The big question for many is will you be able to hose down the interior? Of course you will. It's your car – you can do what you want with it. However, Land Rover suggests you wipe it down instead and make use of the materials it has developed to retain the Defender's practicality in a world that demands luxury. 
Then there are the accessories – over 170 of them – including a ladder to climb on the roof and a pannier that fixes to the rear side window. The roof rack, which will hold 163kg of weight when driving or 300kg if being used with the optional roof tent, was designed in the wind tunnel, and there were over 60 rear wheel cover designs worked through until Land Rover was happy with a design that looked like an integral part of the car's rear door.
Snorkels, winches, backpacks that double as storage bins and three roof options, including a safari-style canvas one, are all available. You can even order traditional large mud flaps. The Land Rover team has thought of pretty much everything. 
Yet despite this remarkable effort and attention to detail, there's a sense that Land Rover still has its biggest challenge to face: convincing yesterday's Defender owner that today's car is still for them, while equally persuading today's car buyer that they need a Defender.