Can the Renault Clio Trophy beat a modern supersaloon for daily transport?
The boot struts have gone saggy and the hatch slams onto my head three times a week, but the Clio Trophy is hard to resist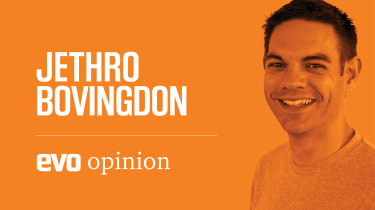 Are we completely mad? I only ask because in the last month or so I've jumped from a bona fide evo five-star icon as everyday transport to a brand new car with performance and capabilities that dwarf it in every single respect. Yet this wündercar is a four-star verdict all day long.
The new car is an Audi RS7. A model that's never enjoyed the affections of enthusiasts reserved for an M5 or E63 AMG. I doubt the latest version, which aesthetically is 'Kia Stinger on steroids', will change that despite a dynamic character transformed. However, the notion that readers of this magazine (and by extension, its writers) are insane is reinforced every time I drive it. Or more accurately, park it up. People adore the RS7. My five-star, solid-gold evo icon on the other hand…
Oh, the Clio Trophy is a tough-looking little thing. In Capsicum Red and on those sweet anthracite Speedlines it's very obviously made of the Right Stuff. People like it. However, I suspect if I parked these two next to each other and told onlookers that the, ahem, Best Performance Car Magazine in the Entire World says that my Clio kicks the RS7's backside, they would think the Church of evo is a deluded cult. And perhaps they'd have a point. Life isn't a deserted B-road. It's a slog. And for once this battle will play out in the real world. The Trophy was used for airport runs, taking the kids to various clubs, for shopping, the odd early morning blast to a friend's, and everything in between. And now the Audi is, too. Can a shiny, absurdly fast four-star not-quite-hero make a five-star icon feel distinctly ordinary in day-to-day use? Am I about to unravel the entire premise on which this magazine is founded? Here goes…
> Renaultsport Clio V6 body kit - Art of Speed
Wow, did it feel good to jump into the RS7 that first time. It looks fantastic. The distended bodywork, gaping intakes and 22-inch wheels sate that part of the brain that – shamefully – is excited by nice, expensive things. The interior triggers good feelings, too. Classy and overburdened with heavy, luxurious toys. But who cares about weight when four-wheel steering creates stunning agility? The RS7 even rides surprisingly well, despite those wheels. It does everything well. There's no slack anywhere, phenomenal control at speed, monumental performance on tap, and understeer and oversteer melt away. The RS7 does what supersaloons need to do. It devours anything in its path. Yet there's a fluency, poise and aura of invincibility that beggars belief. This most inherently compromised of performance cars doesn't seem compromised at all.
The Clio Trophy is compromised, though. And not because it's front-wheel drive. No, for everyday use the real flaws are that it's based on a 15-year-old Renault Clio. It rattles. The cupholders behind the gearlever ensure at least 25 per cent of your coffee is spilt and leaks god-knows-where every single time. Radio reception is rubbish. The driving position is infuriating. The boot struts have gone saggy and the hatch slams onto my head three times a week. Day-to-day these details drive you mad. I even find myself wistfully looking at 'normal' cars and cursing their drivers who are enjoying CarPlay and living without mild concussion. Damn those ignorant car haters and their easy lives. Meanwhile the RS7 is an easy life with 592bhp thrown in.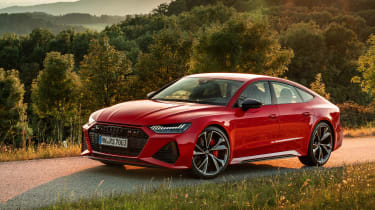 I admit the Trophy got dusty. The battery may have gone a bit flat. The Audi is so fast and it charges my phone without a lead. The kids fit in the back. It offends sanctimonious cyclists. It really does tick a lot of boxes. And I do love that everything's perfect. I drive it and don't have to make mental 'to do' lists. Plus, the dynamics are genuinely otherworldly and a near-600bhp punch never fails to amuse. Let's bump it up. An easy 4.5 stars.
Bit by bit little niggles emerge, though. The four-wheel steering is unbelievably effective but at low speeds it makes the car feel unnatural. The eight-speed auto is efficient and punchy but it doesn't have the clean, weightless shifts of the best dual-clutch 'box. Why is it sooooo wide? The Clio was calling me back. So light! So much raw, gritty feedback from the steering and seat. So natural in everything it does and so refreshing to feel weight transfer and use it to your advantage. Suddenly roads weren't to be demolished but savoured and unlocked metre by metre. Even the rattles disappeared beneath the buzz and thrash of the 2-litre engine. Understeer and oversteer became real again. Tangible. Turns out they're pretty fun things to deal with or incite. The Trophy reignited my passion for driving before I'd even got to the supermarket. We are not mad. Five-star cars are special. Buy one. They're out there for less than the price of a set of RS7 ceramics. You just have to ignore the rattles.