Renaultsport Clio V6 body kit - Art of Speed
The Renaultsport Clio V6 is a hot hatch like no other, and we explore details of its extraordinary body kit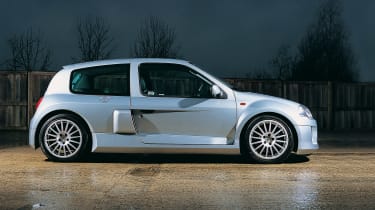 The idea. However humble your starting point – and they don't come much more humble than a front-drive shopper – sacrificing the rear seats for a potent motor driving the rear wheels will have all sorts of interesting consequences. The Renault 5 Turbo and Turbo II were fine early markers for what, 20 years on, would be the ultimate manifestation of the notion.  Distorted to a level of almost comical tumescence by their mid-mounted mechanicals, the terrible tots rallied with some success and proved a hoot to hustle down a twisty back road. They also established a kind of 'what if?' mentality at Renaultsport.  
As in 'what if we do it again?' Despite a new direction suggested by the 1996 Spider, for its next act Renaultsport returned to the baby-hatch-turned-ultimate-rally-weapon formula. Insert 'fantasy' somewhere in there too, because while there seemed no good reason why the treatment shouldn't work for the second-generation Clio, rallying was off the table. Perhaps more curiously still, in front-drive 2-litre 172 Cup hot hatch form, Renault already possessed a Clio with serious performance and point-to-point chops.
> Renault Sport Clio V6 - review, history, prices and specs
Undeterred and confident its supermini could do the bijou supercar thing, Renaultsport pushed on with the design for a mid-engined V6 Clio racer that would spawn a limited run of road cars. Previewed as a concept at the 1998 Paris show, three years later (and with more than a little hands-on help from Tom Walkinshaw Racing at its Swedish Uddevalla site) the most outrageous road-going Renault ever hit the road. And, amazingly for a Clio, took up most of it.
Unlike the R5 Turbo, the mission here was to somehow shoehorn a large naturally aspirated engine – a 227bhp version of the 24-valve 3-litre V6 from the Renault Laguna – into the midriff area of the normally slim-hipped Clio. To facilitate this, the standard bodyshell was fitted with custom subframes to support the new motor and a remarkable amount of lateral largesse to accommodate a significantly broader footprint and heftier cooling requirements.
Some 171mm wider and 66mm lower than a regular Clio – with a 38mm increase in wheelbase, and tracks widened by 110mm at the front and 138mm at the back to match – the V6 had cartoonish proportions that seemed both perfect and preposterous. Recognisably Clio were the parts of the donor bodyshell you could still see, but the new bumpers, composite side panels and sill covers, together with the industrial-sized vents, were spectacularly distracting.
In 2003 the Clio V6 was given a facelift and called the 255, denoting an increase in power (to 251bhp, or 255 PS). With an even wider front track and sharper lines, it looked madder than ever. It also addressed some of the scarier handling issues of the original. Respect was still advisable, though, especially in the wet.