'Sounds have left imprints on my memory every bit as vivid as anything I've seen'
The sounds of internal combustion will be greatly missed, says Meaden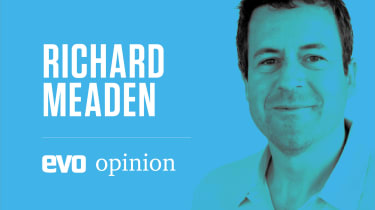 Summer. Season of sunshine, Barbecues, beautiful light evenings and the distant sound of high performance petrol engines drifting on the breeze. Perhaps I'm odd (don't feel compelled to answer that), but ever since I can remember I've always enjoyed the distant sound of a fast car or motorbike being wrung through the gears. There's just something about hearing that solitary, piercing soundtrack that tickles people like us.
Don't get me wrong, if you lot came hammering by my house for hours on end I'd be stood outside shaking my fist and complaining to Jeremy Vine, but the odd pack of superbikes or the occasional sports car? I don't have a problem with it. In fact, as Mrs M will wearily attest, I take considerable nerdy pleasure from informing her what I think said car or bike was. Not just the marque, but the model, and in the case of the cars, whether it's manual or paddleshift.
It just so happens that the village in which we live happens to be within earshot of a  popular set of bends. At this time of year this means I can pretty much set my watch by the first few bikes, which yelp their way from the nearest market town at 6pm or thereabouts and scratch up the lefts and rights before howling off into the distance. I'm not a biker, but I reckon I can identify most brands just from the soundtrack, from the deep whack of a Ducati V-twin and the sharp turbine drone of a Triumph triple to the fireworks of a barely silenced BMW S1000. In the absence of the Isle of Man TT races, the brief flurry of noise is a welcome bit of two-wheeled excitement.
> 'Electric cars need more character, and there's an obvious place to look for it'
There are some four-wheeled regulars, too. The R35 GT-R with its nasal V6 yowl. The five-pot Focus ST with its Quattro-like warble and WRC-style pop-bang remap. The hard-driven 911 GT3 (997 or maybe 991, I can't quite decide) and the Caterham with the most glorious induction noise. Most come by once or twice a day, each driver revelling in up- and down-shifts, chasing the throttle and enjoying every moment of their drive home. At the most basic level it's just good to hear people enjoying their cars.       
Sound – like certain aromas – is a powerful emotional trigger. Not always in the way you'd expect. For instance, in the context of noise nuisance complaints to race and test tracks, it's often the screech of tyres, not roaring engines, that provides lawyers with the strongest argument for enforcement action by the council. 
Apparently it's down to psychoacoustics, which in the case of squealing tyres is associated with the immediate prelude to a car crash. This sparks an evolution of the primal fight-or-flight response, complete with a flood of adrenaline and thudding heart. Handy when we lived in caves and feared being eaten by sabre-tooth tigers; less welcome if you're quaffing a gin snifter in your garden.
I'm pretty sure my trained ear can swiftly differentiate between a crash outside my house and a hapless punter spinning a mile away on a trackday, but I don't question the reality of psycho-acoustics. Though in my case it's the shriek of a 911 GT3 race engine hammering down the Nürburgring's start-finish straight that trips me out. Why? Because that raucous and unmistakable sound became engrained on my psyche during a decade of racing in the VLN and N24. That noise meant I was in the pitlane and most likely experiencing a high state of alertness/blind terror. To this day when I hear a modern 911 race car my heart beats faster and my guts start to twist.
In a less unsettling way, sounds have left imprints on my memory that are every bit as vivid as anything I've seen. A decade ago when I was competing at the Bonneville Speed Week with Skoda UK I can recall standing at the side of the long course – a seven-mile stretch of groomed salt – where the really quick stuff would run at 300 or maybe even 400mph. 
The cars were a very long way away when they began their runs, but blown V8s producing several thousand horsepower tend to make quite a noise. Watching a small black speck tracking across the horizon at ever-increasing speed is dramatic enough, but when you factor-in the weird disconnect which comes as a result of sound travelling slower than light it's a wholly surreal scene. The hard, unrelenting drone of a streamliner hauling a colossal top gear is something you never forget. 
In this nascent EV Age, the uniquely evocative noise produced by a high-revving ICE is soon to be on the endangered list. Driving cars has been a massive part of my life for more than 30 years, and right back in early childhood my love of cars was rooted in the wondrous and uniquely potent sounds (and smells) of internal combustion. I have a feeling that long after we've come to terms with the one-dimensional nature of the EV driving experience it will actually be the voices of long-lost 4, 6, 8, 10 and 12-cylinder engines that we will come to miss the most.