'Car makers developing four-wheel-drive technology should take inspiration from a dog'
Where will you find the most sophisticated four-wheel-drive system available? Look no further than man's best friend, says Porter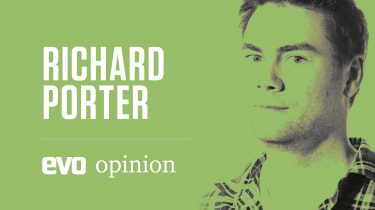 Almost five summers ago we acquired a small furry bundle purporting to be a puppy. Some time later, based on its full-grown size, appetite and aroma, I now suspect it to be the spawn of a polar bear. This is why our house is now home to a sizeable off-white oaf that ruins the flowerbeds, shouts at the postman and sneaks onto the sofa when she thinks no one's around. Diamonds are a girl's best friend, while as a man I get lumbered with a drooling buffoon that, unlike my wife's wedding ring, demands to be taken out for several miles of brisk walking every day, no matter what the weather.
It's particularly tricky at this time of year because it's cold and sometimes icy, which brings the ever-present prospect of taking a nasty fall in some unseen alley or parkland corner as you get caught unawares by a patch of ice or, since I live in London, a slick of frozen sick. I regularly picture myself being found several hours later, a podcast still playing in my ears while the panting moron we call a pet has got bored of trying to eat the treats from my inside pocket and has wandered off onto a dual carriageway with a spare turd bag wrapped around her face.
> Best used all-wheel-drive performance cars
This is a particular fear of mine when I'm walking the massive moron on a lead, because she's forever trying to zoom up perilous slopes or swerve violently across frosty verges and it's all I can do not to follow, given that she's the size and strength of a foul- smelling shire horse. In a desperate attempt to stop her yanking me down another gulley slick with permafrost I'll yank on her lead, at which she'll turn around and give me that ear-raised, waggly eyebrowed look that says, 'What?' To which I mutter, 'We can't go down there because I'll fall over.' There's a pause while she cocks the other tufted, fox-poo-encrusted brow. 'I'll be fine,' she seems to be saying. 'Yeah, I know you'll be fine,' I hiss. 'But it's okay for you, you're four-wheel drive.' And this leads me to a very important question: exactly what is the torque split of a dog?
It's quite easy to study this because she's a filthy buffoon and as soon as she's off the lead she's drawn towards the biggest and slickest patch of mud within any five-mile radius. From observing her behaviour on a loose surface, it's easy to assume that the dog simply splits her power evenly between both ends like an original Audi Quattro: 50:50 front-to-back, hammer down, spinning up all four in a way that makes rally Quattros looks cool and dogs appear to be in a cartoon. But the dog isn't as simple as all that, much though there are many things about her that appear to be jammed in one mode. Her fuelling system, for example, is incapable of ignoring and not eating mouldy food from the gutter, despite the inevitably unpleasant side effects that sometimes end with another trip to the vet. And when that happens there will be 'tests', which take so long you've plenty of time to remortgage your house to pay for them. This also has a terrible effect on her emissions, which are awful enough to make a Volkswagen engineer blush. And then slightly gag.
The torque apportioning part of a dog, however, is clearly quite sophisticated. For one thing, in the middle of a mire she can briefly lose traction on one rear corner, then instantly prevent more power being wasted as she turns the move into a neat powerslide. Ergo, I believe my dog has a slippy diff. Better yet, when she really gets the hammer down on the soft stuff, she can sometimes turn on a sixpence in a way that suggests some pretty tricksy side-to-side shuffling of power to increase manoeuvrability. In other words, I'm pretty certain that the stinking mutt has torque vectoring. And the actual front-to- back split is pretty clever, too, because I've just remembered the time she fell in that pond and then extracted herself up a sodden mud bank using extreme power punted exclusively through the front end. And there's plenty of four- wheel-drive cars that can't do that.
> Audi Quattro vs Lancia Stratos: Driving the legends
In fact, if you're a car maker and you're looking to design and calibrate your next-generation all-wheel-drive technology, forget minutely analysing a Nissan GT-R – you should be dismantling a dog. But not mine. She's noisy, she stinks, she mauls house guests in a slobbery maelstrom of over-affection, and she's frequently prone to using her clever doggy diffs to pull me into a flower bed. Or a lake. Yet despite all this, I think she's probably my very favourite four-wheel-drive thing in the whole world.
Find more evo opinion though the links below...