'Too many old farts think Jaguar is the National Trust of car makers'
There's a stale attitude pervading the internet forums, and revitalised Jaguar is the victim. Porter takes aim at the naysayers.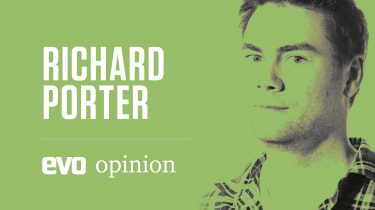 Old fartism sneaks up on you. One day you're young and vibrant, the next you make a noise when you sit down. The transition happens fast, especially once you have kids. As soon as all your clothes are covered in snot smears and you find yourself referring to 'please' as 'the magic word', Old Fartism gains a hold from which you may never escape. Where once you went clubbing and enjoyed long, luxurious holidays, suddenly you find Radio 1 so banal it causes you to shout 'text it up your arse' in a sandwich shop.
You can, however, make a conscious effort to resist some of Old Fartism's most misanthropic excesses. Just because you think 'bae' is a defence and aerospace concern and believe everyone under 30 has ruined their jeans by falling over in the playground, it doesn't mean you need to develop a seething resentment of millennials. And, far more importantly, just because you've passed 40, it doesn't mean you have to think that Jaguar is the National Trust of car makers.
Yet I see this particular branch of Old Fartism a lot, most recently at the announcement of the new E-Pace SUV. To my mind, this is a handsome little thing. It seems to have an attractive spec and, while I don't particularly want one myself, I can see why it has come to exist. But take a dive into the comments sections online, where Old Fartism spreads like a harrumphing, self-righteous virus, and you'll discover a whole flotilla of bores who think Jaguar should only make the 1968 XJ6 saloon.
No doubt, this was a tremendous-looking car, and so were its descendants. I'd take a Series 3 with the V12, if you're asking. I like the way they look, and so, clearly, did the people who designed the mid-'90s XJ, which went back to the fluted bonnet and slender tail lights of the car from the '60s. I enjoyed this interpretation so much I bought one – in black with cream leather and a wonderful supercharged V8 at the front. To this day I have pangs of regret about selling it. But that doesn't mean I want the E-Pace stricken from the record, the F-Pace driven into the sea, and Jaguar's saloon-car range replaced with retro facsimiles of the '68 XJ.
> Jaguar XE SV Project 8 breaks Nurburgring record
Pish and posh splutter the Old Farts of the forums, that's what a 'proper' Jaguar looks like. Yeah, well I've got a thought for you chaps: if you liked 'proper' Jags so much, why didn't you buy one? Because it's pretty clear from the sales figures that most of you didn't. Oh, everyone liked the idea of backward-looking Jags all flutey and chromey and slathered in hide, but the sales figures were lousy. It's what you might call VW Corrado syndrome. Everyone likes the idea and wails with sorrow when it gets taken away, but few slap down the cash when it matters. And that's how we end up with the E-Pace. Jaguar has to make cars that the market wants and in a contemporary style because, as it turns out, most people don't want retro Jags, they just want to bemoan their absence.
What's worse is that, in its day, the original XJ6 was not tweedy and safe, it was mind-bogglingly futuristic. So too the XJ-S – a little too much since it remained untainted by customers for much of its life and only the passage of time has made us realise it's actually quite excellent. I imagine Old Farts would have spent much of the period 1975-96 whinging about how it didn't look like a Series 1 E-type. All the best Jags, even the early, digi-dialled, rectangular- headlamped XJ40s were forward-looking cars. And now we have the E-Pace, which has the fashionable tech and is of the most fashionable genre of car. It's not futuristic, but it's certainly on the money. It's a car Jag has to make and, assuming it hits the mark on sales, it pays for the continued existence of the snorty, naughty F-type, which is exactly the sort of caddishly wicked and dynamically amusing car we as evo-heads want to see. It's Jag's version of The Porsche Cayenne Equation.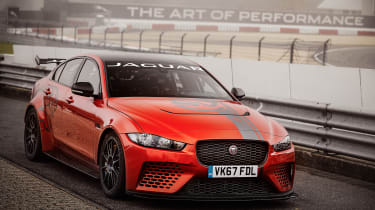 I suspect this doesn't cut it with Old Farts. They want Jaguar to be pickled in aspic and perfectly preserved from a time when Harold Wilson was prime minister. Well it won't do. This moronic, misty-eyed, backward-looking belief that everything was better in the past will be the eventual ruination of Britain. Hankering after a mythical time when children were polite, policemen stood on street corners and every Jag had a plank for a dash is only preventing us from moving onwards.
I can and do moan about this stuff because I'm increasingly an Old Fart. But while I'll happily rage about apostrophe misuse and the baffling mystery of Snapchat, I can promise my children one thing: I only want new Jags to be modern.
Find more evo opinion though the links below...