'Ring records once meant something, now I feel completely immune to their impact'
Nürburgring lap records have become mighty but meaningless, says Meaden, who reckons we can bring back the awe of the olden days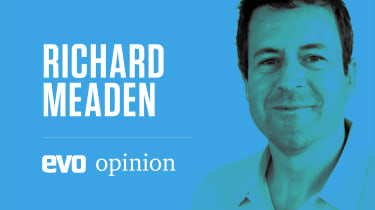 Seventeen years ago this magazine dedicated its cover to a gathering of cars capable of lapping the Nürburgring Nordschleife in under eight minutes. Front and centre of the 'Ring Masters' cover (evo 021) was the then-brand-new Audi RS4 Avant – the most mainstream car to crack the magic eight-minute barrier. Arranged around it were the Caterham R500, Jaguar XJ220, Porsche 996 GT3 and Nissan R33 Skyline GT-R: four cars that had also built formidable reputations by circulating the world's toughest 13-odd-mile loop of tarmac in a high seven-minutes-and-something.
Fast-forward to 2017 and a Lamborghini Huracán Performante has just lapped in a high six-minutes-and-something. That's an astonishing lap time. An achievement beyond anything you can glean from the soulless in-car footage. So why don't I care?
Too much of a good thing, I reckon. Where once these Ring records meant something, now I feel completely inured to their impact. With more and more cars claiming quicker and quicker times, the significance of the cars, the laps and even the North Loop itself seem to be eroding before my eyes.
> Fastest Nurburgring lap times
Part of it is because the cars themselves have evolved at such a rate that the challenge has changed beyond recognition. Where it was once about getting the best from a fast road car that's in way over its head, it has now become a case of finding a driver willing and capable to summon enough commitment to find the car's limits.
It's often said the Nordschleife is like the ultimate B-road, and in many respects that's true. It certainly has more in common with a fantastic country road than a racetrack. That's what makes it unique, and why it has become a test and development mecca for all the major manufacturers. Thinking back to 2000, even the best fast road cars could be tied in knots, or at least a tangle or two, by our toughest road routes. Seventeen years later we're still using the same road routes, but the best high-performance cars are pretty much impervious to the challenges they present.
There was a time when I'd pick my moment and relish the prospect of driving test cars hard on these roads. The challenge was to be sensitive to their limitations and wary of their edgier traits. Self-control was a factor, but the limit was something you sought with care and paid respect to. These days a Porsche 991 GT3 RS, Ferrari 488 or even a VW Golf R is capable of such blistering cross-country speed that you would rightly be relieved of your licence and liberty should you be reckless enough to uncork any of them. And you'd still be some way below the limit of their capabilities.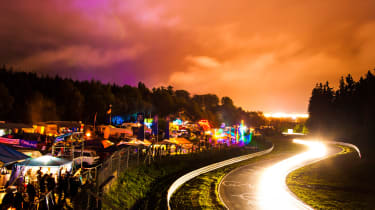 Watching the Huracán lap, or indeed the Porsche 918 Spyder lap it trumped, is a window on the zone where those limits now reside. Way up in the thin air, where only those charged with the job of wringing out a lap time are prepared or able to go. It's a bit like watching YouTube videos of those mad Russians who climb terrifyingly tall buildings, then dangle themselves off the ledge at the top. It makes for compelling but decidedly uncomfortable viewing. I certainly wouldn't want to try it.
If you love fast cars and what it takes to drive them to the limit of their capabilities, anything that happens between Hatzenbach and T13 should matter. Sadly, as these 'record' laps become more and more commonplace it seems the noble, gnarly old Nordschleife is being normalised: plundered for disposable marketing material that then sends vociferous internet 'experts' into a frenzy of conspiracy theories.
> What has the Nürburgring ever done for us?
I'll always have tremendous respect for anyone prepared to put their balls on the block and go for a time, but I've reached a point where, apart from a bit of tea-break titillation, the laps don't mean anything. How can they when they are timed on different days and the cars are prepared to a standard ungoverned by any kind of official body? If there's no consistency there's no context. That's why almost 35 years since it was set, there's only one Ring record worth getting excited about: Stefan Bellof's incendiary 6:11.13 at the wheel of a Porsche 956 in qualifying for the 1983 Nürburgring 1000km. On the same day, in the same type of car as his factory teammates, Bellof went five seconds faster than the next quickest man.
Inevitably there has long been talk of Bellof's record being ripe for breaking. Thus far talk has proven cheap. So here's an idea: if the manufacturers enjoy the marketing mileage from setting so-called Ring records, why don't they get together every year, allow an impartial scrutineer to check the validity of all the cars, strap in the maddest test drivers available, give them a slap and let them go at it in the ultimate Time Attack? From hot hatches to hypercars, the score would be settled. Now that would get my attention.
Find more opinion pieces though the links below...