'The Aston Martin Rapide AMR is a completely preposterous car. And I want one very much indeed.'
Take dignity, and discard. Then add smugness and blend with no logic whatsoever. Yes, it's Porter's recipe for a truly silly car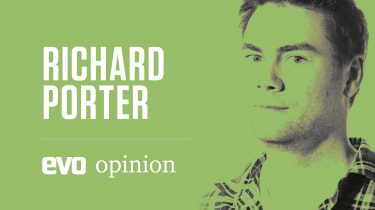 The Aston Martin Rapide AMR is a ludicrous car. You've probably seen it, crouching on oversized alloys with a strident stripe up its middle and an extra 50 horsepower under its bonnet, all things the most sedate of Astons does not need in its old age. No one has driven a Rapide and thought it should have a front splitter and a noisier exhaust. If I were being cruel, I'd say that no one's driven a Rapide full stop, which is why you rarely see them around. But you'd certainly spot the AMR version because it crushes any quiet dignity under an awkward desire to be cool, like a 50-something man becoming a bit too enthusiastic about Instagram. No, I'm afraid the Aston Martin Rapide AMR is a completely preposterous car. And I want one very much indeed.
There's a simple reason for this; it's because it's silly. In quiet moments I find myself going online and having another look at it. I like to imagine turning up to smart country hotels in it and watching them trying to keep a straight face. I picture my three-year-old's expression as I use it to collect him from nursery. I think he'd particularly enjoy the lime-green interior detailing. I know I do, especially the way they've extended it to the interior of the cup holder. It's a silly detail, but silly details are a vital part of silly cars. 
> Click here for our review of the new Porsche 911 GT3
Conversely, you can't make a silly car by half-heartedly adding these touches. You could put a dayglo cupholder innard into a Porsche  911 GT3 and it would not make it silly. The 911 GT3 is a very good car, but it's not a silly one. It's too po-faced and polished. In the course of its development, a great many clever people in branded fleeces have furrowed their brows and come home late to their families, and they didn't make all that effort to come up with something silly. The 911 GT2, on the other hand, is almost silly, simply because it has that slight sense of boggle-eyed lunacy about it. The latest 911 Turbo S is getting there, too, in a way that no 911 Turbo has before. Mostly, however, its silliness comes from an astonishing ability to pick an implausibly distant object and bring it towards you at a speed that your brain struggles to process. But it's not truly silly. Neither are any current Ferraris silly because they, like the GT3, are too balanced, too technical, too likely to draw you into a very earnest conversation about lap times. And silly cars are never about lap times
A silly car has to be incongruous and unnecessary. Its glory comes from the fact that it exists in a world that never asked for such idiocy. Hence, the silliest current Porsche is the 562bhp Cayenne Turbo S. It's also why the silliest BMW of recent times was the M Coupe. AMG Mercs used to be silly, but they've become so familiar that the incongruity of silly has been erased. Except in the GLS63 SUV, which must give its occupants an eerie facsimile of achieving positive Gs inside Westminster Abbey, and the enduringly idiotic G63, which is an exceedingly silly car as well as an extremely crap one. 
In the world of silly, that doesn't matter. Silly is about the kind of cars that, if they were people, would have a wry smile on their face as they fell backwards off a roof into Burt Reynolds' swimming pool while dressed as a duck. They're out for a good time, all the time. Which brings me to the one-time kings of silly, Lamborghini. I'm sad to say, this is a company that has lost its silly mojo. The Huracán simply isn't a silly car, and while the Aventador might seem a bit silly, there's a sense that it's merely going through the motions, pretending to be a daft sod while secretly thinking about calling its personal trainer. The Countach and the Diablo, they were properly silly cars, yet even they pale into magnolia sensibleness compared with Lamborghini's defining moment of silliness, the LM002. Now there's a car that had everything you need for maximum silliness: an oversized engine, ludicrous looks, and absolutely no logical reason to exist. It set a benchmark of silly, the like of which I doubt we'll see again.
But in the meantime, we'll make do with what we have. Because while I generally favour an understated car, if you're going to have something that attracts attention, that doesn't take itself too seriously, that seems to fly in the face of all logic and, precisely because of that, seems completely, brilliantly, middle-finger-flippingly bad to the bone, you need a car that is unashamedly silly. Which is why I want a Rapide with a lime-green stripe up it.