'High summer might seem like an odd time to ponder the merits of driving in the rain, unless of course you're British'
There's a natural antidote to the crushing ability of modern performance cars, says Meaden, just keep an eye on the Met Office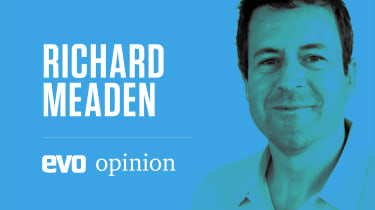 High summer might seem like an odd time to ponder the merits of driving in the rain, unless of course you're British, in which case it's perfectly normal. But wherever you're from and whatever the season, far from putting a literal and metaphorical dampener on things, I reckon it's true to say a bit of precipitation enhances the driving experience.  
Of course there are exceptions, such as the time you collect your brand new, roofless, doorless and windscreen-less Caterham Fireblade and get caught in a biblical thunderstorm and hellish traffic jam on the M25. However, freak instances of public humiliation aside, you'd have a hard job convincing me that anything other than good things come from a reduction in the coefficient of friction.
Think about it. With every passing generation of high-performance car, be it hot hatch, coupe, sports car or supercar, we all marvel at the increases in power, traction, road-holding and point-to-point pace. Yet in the next breath we bemoan the fact that these relentless leaps in competence and capability only serve to give us more performance we can't fully access on the road, while further distancing us from the involvement and sense of connection we crave.
> Click here to book your place at our next evo track day on August 24
The beauty of rain is it unfailingly brings those tactile, sensory things nearer to our grasp. I'm not talking deluges, for there's nothing fun about the pucker factor of aquaplaning on standing water, but anything less than that – from light drizzle to heavy rainfall – brings an endlessly variable and invariably rewarding string of challenges to tackle. In short, wet roads engage your brain and senses far more completely than dry roads ever can.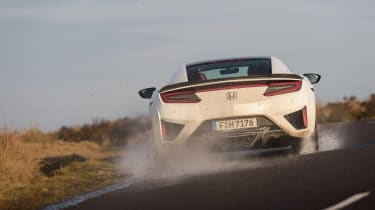 Slippery roads force you to think about how hard you brake, how insistently you lean on the front end's grip and how greedily you chase the throttle. With mechanical grip at a premium those clever but otherwise unchallenged ABS, stability and traction control systems are suddenly called into play more readily, at which point your car comes alive beneath you. The safety net's still there, but your inputs assume a more critical and influential role in the process of making swift, safe and satisfying progress. Lean on the electronics gently and you know you've found the limit. Fall into them clumsily and you know you need to be less of an oaf. It's an addictive, constructive and enlightening process.
I haven't always loved driving fast cars in the rain, but with time, effort and no little thought I've come to relish it. Now, when I look back, some of the most memorable drives I've had have been when the heavens opened. In racing, rain has always been regarded as a the great leveller – the opportunity for those blessed with the natural talent, but perhaps cursed with a less than race-winning car, to shine. Were it not for a red flag bringing the race to a premature end, Ayrton Senna's first GP win would have been in 1984, driving a Toleman in appallingly wet conditions round the Monaco street circuit. He eventually took his maiden win in a Lotus at an equally sodden Portuguese GP the following year. Both performances were brilliant and prescient, but when he drove in his first ever wet race as a young karter he was, by his own admission, clueless. Yet instead of resenting and fearing wet conditions, he embraced them, heading to his local kart circuit whenever the rains came so that he could develop and hone his skills to a point of preternatural brilliance.
I'm not suggesting any of us possess the latent genius of a nascent Senna, but there's a lesson for all of us in what he achieved and how he achieved it. There's no question – if you work on your wet-weather driving not only will you enjoy your car more during the less clement seasons, but come the summer your dry-weather driving will also have improved immeasurably. It's not easy, though. Enjoying the rain is as much about your head as it is the seat of your pants.
As soon as windscreen wipers set about their slightly frantic cadence, we all fight the urge to tense up. Allow anxiety to froth your state of mind and nerves will overwhelm your ability to interpret what your car is telling you. The trick is not to overreact at the slightest nervy twitch of oversteer or insidious slew of understeer, but instead develop the sensitivity to let the car flow. Nudge towards the limits, read the sensory signs and log them for future reference and you'll be well on the way to making safe, swift progress. That's particularly relevant to road driving, but it's also the key to enjoying a wet trackday when everyone else hides in the paddock cafe or, ultimately, revelling in the unique challenges and thrills of a wet race.  
Whatever you drive, whatever your level of experience and wherever you're driving, when it comes to honing your skills and enjoying your car, far from stopping play, rain is most definitely where the fun begins.