"The best drives are always about the journey, and not the destination."
Flying may be quicker, but you can't beat the sense of adventure that comes with a big-miles road-trip, reckons Meaden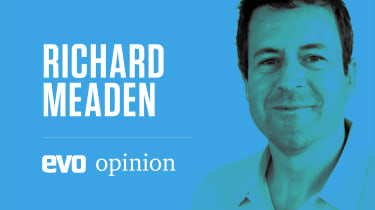 It'll come as no surprise when I say that, as a breed, motoring journalists are fond of the odd cliché. Rather like The Racing Driver's Book of Excuses, The Motoring Hack's Compendium of Clichés has most things covered. Whether it's likening the sound of anything with a V8 to that of a NASCAR, using the term 'cherry red' to describe glowing brake discs or rejoicing in the nuggety pleasures of a particularly feelsome helm, we rarely miss an opportunity to trot out a hackneyed phrase.
Another favourite is proclaiming that a swift, refined and comfortable car could be driven to some far-flung European location – normally the south of France – in one hit without the driver feeling the slightest fatigue. Most of these expressions are cobblers, but this one has some validity. Or at least it did, in the days before cheap short-haul flights rendered the journalist's notion of the great European road-trip redundant.
> Click here for find out what to look forward to at the 2019 Paris motor show
It wasn't so long ago (alright, it was 20 years ago), when working on Performance Car magazine, that five of us piled into a Citroën people-carrier and drove to Maranello, because it was considerably cheaper than flying. Similarly, in the early days of evo, Gus Gregory, editorial odd-job man John Hayman and I crammed ourselves into a Jaguar XKR on a Friday afternoon, arrived at the Maserati factory at breakfast time on Saturday, took a 3200GT away into the hills for a cover-story twin-test, then turned around and headed for home on Saturday evening. Many hours of fast nocturnal driving later we arrived back in Blighty for Sunday breakfast broken men, tripping out of our heads on Red Bull and needing emergency chiropractic treatment. But I digress.
Nowadays if you book far enough in advance you could make umpteen flights to Italy for less than the cost of a tank of petrol, but if you've experienced the unfolding story of a transcontinental drive then flying is never less than deadly dull. Factor in the inevitably stressful drive to the airport, increasingly drawn-out check-in times and endless security checks, and short-haul flights are about as convenient and enjoyable as a savage case of piles.   
With this in mind, when I received an invitation from Mercedes-Benz to fly or drive to the Geneva motor show, I elected to accept the offer of a car rather than a seat on an Airbus. I'd be lying if I said the prospect of slicing through a large chunk of France and Switzerland in a brand new S65 AMG Coupe didn't sweeten the deal somewhat, but in all honesty I'd already decided I was going to Geneva by car before the fortuitous invite landed in my inbox. The only difference was that now I'd be doing so in £190k-worth of biturbo V12 coupe, rather than something of a more understated nature.
It's been a while since I've done a proper journey, so I was pleased to feel that familiar fizz of excitement at the prospect of a big drive. Even setting a pre-dawn alarm didn't dampen my enthusiasm, and when I met up with my old evo partner in crime, Andy Morgan, at Stansted Airport, the final essential component of a great journey – a good mate – was in place.
Such trips are the perfect reminder of many things. Firstly, that Europe is a very large place. Secondly, that driving pleasure needn't always hinge on going at it like your trousers are on fire. Thirdly, that it's criminal French autoroutes have speed limits. And fourthly, if you're going to do big miles you can't beat the majesty of an equally big – and preferably turbocharged – V12.
There's something rather magical about plumbing a destination into the satnav, knowing that you're three countries and 700 miles away. What at first seems like an insurmountable journey-time soon becomes something to relax into, and as the miles melt beneath your wheels and the world streams by your windows, you find yourself reconnecting to the freedom driving bestows upon you. Go anywhere. Stop anywhere. Eat what you like, when you like. Drive fast, cruise slow. Listen to your favourite music as loud as you like, which in the case of the S65's extraordinary Burmester 3D surround-sound system, with 24 speakers and 1540 watts of amplification, is bloody loud.
We barely tickled the S65's V12 or its 621bhp and 737lb ft, but it didn't seem to matter. Sometimes the unique pleasure of such a car is knowing what's in reserve as much as using what you have.
Now, I'm not suggesting for a moment that borrowing this remarkable spaceship of a car on a jaunt to Geneva is in any way representative of normal life, but I've done enough big drives in all kinds of cars to know that whatever you take, if you genuinely love driving then you'll always have an unpredictable, unforgettable time. As if to prove the point, fellow journalist and occasional contributor to evo, Colin Goodwin, drove the same journey solo in a Caterham Seven 160. Yes, he is bonkers, but his madness proves my point, and neatly leads me to the one motoring cliché that's absolutely true: the best drives are always about the journey, and not the destination.