The 2018 Paris motor show is now open to the public. After a couple of hectic press days on the floor, the show has surprised us, but also disappointed as the growing trend for manufacturers to step away from international shows such as this takes its toll.
On this page you'll find our Paris motor show coverage in full. We pick out our star cars of the show and give you a full rundown of all the models evo readers should know about. Then there's our live Twitter feed to give you a taste of the 2018 Paris show as it happened.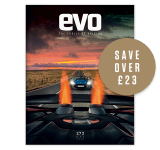 Subscribe to evo magazine
Subscribe today to have every issue of evo delivered straight to you. You'll SAVE 39% on the shop price, and get evo for its original cover price for a whole year!
Best cars at the Paris motor show 2018
Regardless of the no-shows there was still plenty to get excited about at Paris and here are our highlights.
Porsche has arguably stolen the show this year, thanks in no uncertainty to the Porsche Museum pieces on display, but also the near production ready 911 Speedster that will close off the 991-generation 911 in style. Already previewed at a prior event with a heavier retro slant, this 911 Speedster takes a more contemporary approach, highlighting the extra level of personalisation Porsche is wishing to offer buyers of the already very special 911.
Ferrari is also getting in on the speedster action with a public showing of its Monza SP1 and SP2. Like the Porsche, this pair have already been revealed, but this is the first time the public has been able to feast their eyes on the debut models from Ferrari's 'Icona' series. The 488 Pista Spider is also present here after its Pebble Beach debut, making for a very convertible-friendly Ferrari stand.
It isn't just a show for limited-build supercars, though, as the hot hatch is reasonably well represented, too. Hyundai continues to build off the good press its impressive i30 N has gathered by revealing both the sleeker i30 Fastback N  and some possible tasty 'Option N' performance parts for both hot i30s. The Mercedes-AMG A35 in also on show and ready to fill the gap between humdrum A-classes and the next hyperactive A45.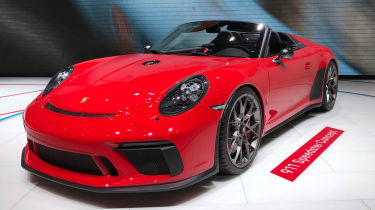 The all-new BMW 3-series is the show's biggest reveal, although for the moment it's only cooking models that have been revealed. M Performance variants will arrive early next year, but the one we're waiting for is the next M3. However, that won't be reaching us till at least 2020, and possibly with a hybrid powertrain.
One can't ignore the fact that big-name manufacturers from across the spectrum – including Audi, Volkswagen, Volvo, Ford, Nissan and Lamborghini – have chosen not to take part in this year's Paris show (although Audi and Lamborghini are represented by local dealers), but Paris is still a motor show with massive influence, and a chance for manufacturers to show off their respective futures, with the latest concepts and new models all vying for attention. Below is our list of what else to look out for.
Paris motor show 2018: manufacturer A-Z
Below you'll find our round-up of the key cars at the 2018 Paris Motor Show. Click the links to read the in-depth stories...
Audi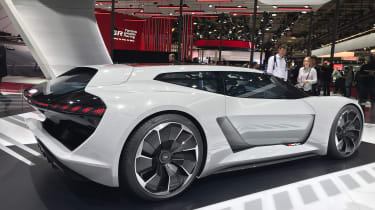 Audi's latest glut of all-new models are on show, although not with full support from the factory. Regardless, models like the all-new A1, Q3 and e-Tron are on display – the latter the brand's all-new electric SUV to rival the Mercedes EQC and Jaguar I-Pace
BMW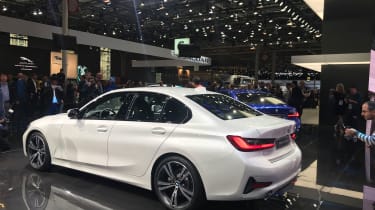 • BMW 3-series• BMW X5• BMW Z4
BMW's presence at Paris is far more tangible, with the all-new 3-series headlining BMW's stand alongside other renewed favourites like the Z4 and X5. The new 3-series is what everyone will be talking about, though, as it has grown substantially in size and tech. A widened and improved range of hybrids will make the headlines, but for performance orientated drivers it's the new 330i which will be of greatest interest, although we'll have to wait a little longer for the 340i version to rival the Audi S4 and Mercedes-AMG C43.
DS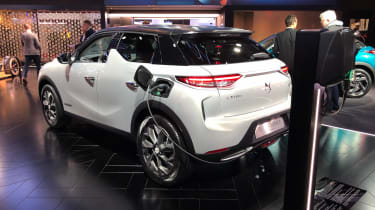 DS's second bespoke SUV has broken cover and features on the DS stand at the Paris show. Despite being an all-new SUV model, it will effectively replace the DS3 hatchback that has proved quite popular for Citroen over the years, only in a trendier SUV package. You can make up your own mind as to the styling, but underneath is all next-generation PSA, sharing its underpinnings with the next Peugeot 208. A full EV model has also been revealed alongside standard versions, although there is no word yet on a hot Performance variant.
Hyundai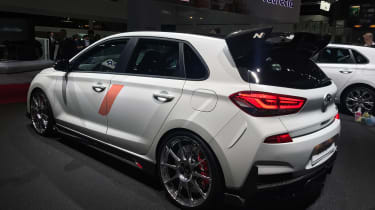 Hyundai's already well-known i30 N Fastback has finally be revealed in full. Aside from picking up the new bodystyle, it will also include some gently revised suspension changes, including a softening of the front suspension to try to improve the already formidable turn-in. These changes will also be applied to 2019 model year i30 N hatches, too. Hyundai has also brought along its 'N Option' Concept to Paris – a series of (mainly) optical upgrades for the i30 N hatch, including wheels, spoilers, interior trim and a sexy vented bonnet.
Kia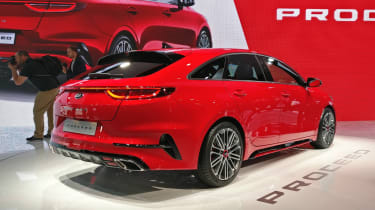 Kia's has revealed its new Proceed GT shooting brake alongside a warm Ceed GT, both of which headline Kia's show stand. Both are powered by 200bhp 1.6-litre four-cylinder petrol engines connected to either a six-speed manual or seven-speed dual-clutch gearbox.
Lexus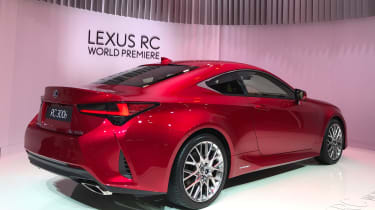 Lexus has revealed its subtly revised RC coupe in Paris, with this new model featuring a combination of sleeker styling and new interior finishes. Chassis set-up changes are also part of the facelift, but it'll be the hot RC F that will peak our interest most which sadly hasn't to be revealed in Paris.
Mercedes-Benz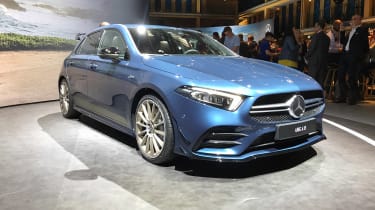 Mercedes-AMG has the new A35 AMG on display, the marque's not at all subtle attempt to cash in on the Audi S3 and VW Golf R's lucrative placement near the top of the hot hatch market. Despite its 302bhp power figure, it will not be the hottest A-class though, as an RS3-rivalling A45 should arrive next year. Elsewhere, Merc has brought along two new SUVs, one of which is the new GLE, successor to one of the original luxury SUVs: the ML. The second is the long-awaited EQC, Merc's first bespoke EV, and one designed specifically to rival the Audi e-Tron and Jaguar I-Pace.
Peugeot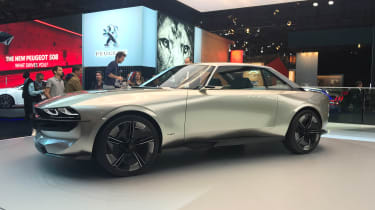 Peugeot's stand is undoubtedly dominated by the stunning e-Legend concept it recently revealed. The pretty coupe takes direct inspiration from the 504 Coupe, but in a deeply attractive modern interpretation. Elsewhere, Peugeot has also revealed plug-in hybrid versions of its 508 and 3008. The 3008 is particularly interesting, featuring a combined 296bhp from its petrol engine and pair of electric motors.
Porsche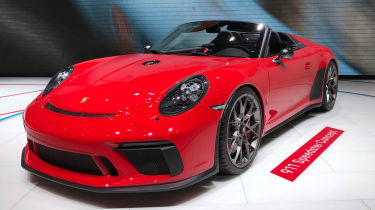 • Porsche Macan• Porsche 911 Speedster
Porsche's big-ticket item for 2018 continues to elude us, and unfortunately the all-new 911 will continue to do so as it hasn't been launched at the Paris show. Porsche hasn't arrived empty-handed, though, as its updated Macan is on show, complete with its new 2.9-litre biturbo V6 engine shared with the Cayenne S and Audi RS4. All is not lost for 911 fans though as Porsche has brought along the production ready version of its Speedster – complete with GT3 underpinnings and bespoke bodywork. Just 1948 will be built as a nod to the first year of production of the 356. 
Skoda
• Skoda Kodiaq vRS • Skoda Vision RS Concept
Skoda's drip feed of the Kodiaq vRS has finally ended with the car's full reveal in Paris. The 237bhp diesel SUV features the usual combination of vRS design elements, with some first-for-Skoda tech like a digital dial pack, but the main story is its potent twin-turbo diesel engine and all-wheel drive. Perhaps of more interest is the Skoda Vision RS Concept that it revealed in Paris, offering a potential version of the company's future styling direction along with its petrol-electric hybrid drivetrain.
Paris Motor Show: live twitter feed