'Ladies and gentlemen, may I present to you the perplexing One Car For Life challenge, or OCFL, for short.'
Your perfect three-car garage? Child's play, says Meaden. What you really want is to identify your automotive soulmate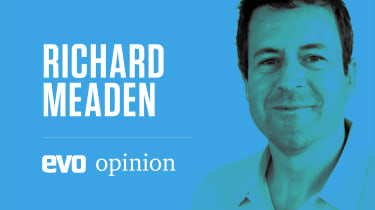 I think it's fair to say we've all played the Lottery Win Garage game. Well, you've got to be prepared, right? And if you've indulged in the notion of unlimited riches, then most likely you've also drilled down into that fantasy a little further with the tougher – some say impossible – Ultimate Three-Car Garage conundrum.
Perhaps I've been spending too much time alone in cars recently, but I think I've refined this four-wheeled quandary to the point of infuriating, Zen-like simplicity. Ladies and gentlemen, may I present to you the perplexing One Car For Life challenge, or OCFL, for short.
Before you write off the rest of your day/weekend/life to a tireless quest for the answer, I'll furnish you with the rules. Oh no, that's right, there aren't any. Well, save for the fact that The Chosen One has to be road legal, but it needn't be brand new or your everyday car for menial work or family-related duties. All it has to do – and I stress the 'all' bit – is bring you closer to complete driving fulfilment than any other car money can buy. Simple as that.
The more cynical amongst you will think this is the part where I inevitably type: 'Of course, my OCFL could only be a Porsche 911.' In all honesty, the 911 is one of the first cars that entered my head. I love them. The first time I drove one it blew me away, and in the years that have followed I've fallen further and further under the 911's spell. And then there's the small matter of me owning one. Yet despite all this, my OCFL is not a Porsche.
As I've discovered, the beauty of the OCFL dilemma is that despite the fact you don't need to rely on your choice to do anything other than fill you with joy, it's not skewed by the lure of limitless exotica. In fact, if my experience is anything to go by, it steers you away from it. That said, I did fleetingly entertain the notion of selecting a car so precious and beautiful – an Aston Martin DB4 Zagato, in case you're wondering – that I'd display it like a piece of art in my living room rather than drive it. I still rather like that idea, actually, though I'm not sure Mrs M would be so keen.
As is always the way with these fantastical thought processes, you get swayed by all kinds of outside influences. For example, I just happen to have spent a few days in the company of an E92 M3 and could quite easily champion that as a strong OCFL contender. It's handsome as hell, fast as, er, it's fast, boasts four seats and has one of the finest engines you'll ever experience. It really does cover all the bases. For a moment I thought the choice had been made, but then off my mind wandered once more, random Meaden brainwaves taking me away from the fabulous but perhaps too mainstream M3 to an altogether different place. A place called Caterham Seven.
Like the 911, the Seven and I go back a long way. My earliest memories are in black and white (yes, I'm that old): the single-page advert Caterham Cars used to take in every issue of Motorsport. I was fascinated by the spindly little machine and its ability to humble far more powerful machinery, and could only wonder at what it might be like to drive. It was a question that remained unanswered until 1993 when, by then in my first full-time magazine job, I was invited to get my race licence and take part in a round of the Caterham K-series Roadsport championship at Cadwell Park. That day – my first race and my first time in a Seven – remains one of the brightest highlights in a charmed life crammed with countless amazing experiences.
I've driven innumerable Sevens since, but the feeling always remains the same. Nothing connects me more completely to what it is I love about driving than sitting behind the wheel of a Caterham. So much of the experience is unique. The intimacy of the cockpit and your proximity to the road and the elements, the modesty and simplicity of the recipe and the purity of the car's responses. They're actually rather comfortable cars once you're in, too, which means the only limit on how far you can drive is your frame of mind. Just ask Colin 'Geneva-and-back' Goodwin.
No, there really is nothing like a Seven. And while it's true to say the more powerful and manic the model, the more intense the thrill you experience, the essence of what it is that makes these quirky, anachronistic cars so special is as readily accessed in the 79bhp Seven 160 as it is in the mind-bending, 310bhp 620R. Me? I'd have a K-series R500 with windscreen, sidescreens and a roof, for maximum usability. One day I'll have (another) one, but for now just knowing is enough. Such is the inner calm that comes from identifying your OCFL. Try it for yourself. You won't get any work done until you've arrived at your answer, but what price motoring enlightenment?