'Suffice to say the A110 absolutely crushes expectations, and your berry hanger'
The absolutely brilliant Alpine A110 is anything but sterile to drive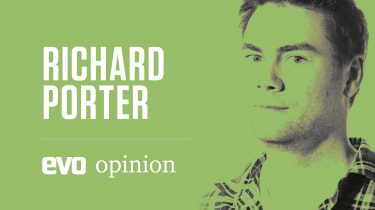 You'll have heard how the Alpine A110's combination of lightness and rightness has earned the admiration of evo's tillermen. And that's all well and good, but what's it like if you've just had a vasectomy? To find out, I went to a central London clinic and invited a large, medically qualified man to have a good rummage amongst my underparts, then realised with dismay that I had booked to borrow a low-slung French sports coupe almost immediately afterwards.
The first thing to cross your mind upon seeing the A110 is just how little it is and also how much your balls hurt. You can immediately sense that this is a car from which all excess has been banished, and this impression is reinforced by opening the featherweight aluminium door, which is so lacking in mass that it puts no strain whatsoever on your mangled knacker sack, unlike its low-slung driving position, which is absolute agony.
> New Alpine A110 2018 review – is it just as good in the UK?
Once in, you can take a moment to admire the bespoke seats with their one-piece backs and upsettingly unpillowy cushions. You might be interested to learn that these chairs weigh just 13.1kg each, despite fine detailing including quilted leather and a grippy central section that expertly rides your jeans up into the tenderest parts of your plum pouch.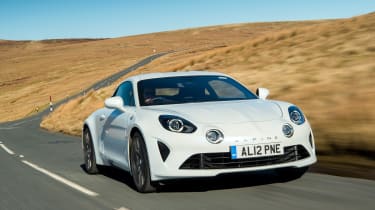 The rest of the interior is, perhaps, a little less successful, featuring a smattering of Renault parts bin components, including remote audio controls seemingly taken from the Renault 19, and the flat keyless entry card from the Laguna, though wrapped in a smart leather case that makes it both more attractive to look at and better equipped to shift awkwardly across your pocket and nudge stoutly into your tenderised clacker hammock.
On the move, the A110 quickly makes its lack of mass known, not least for the way it skips lightly over bumps in the road. The suspension itself is reasonably firm, but with only 1103kg pressing down on the springs and dampers it isn't being smashed into every rut and undulation and this really makes a difference to the overall ride quality, which is firm but generally comfortable as long as you haven't recently had your family jewels neutered by a genial chap in a smock.
The dividends of the Alpine's aluminium construction and dedication to a low-fat diet really become apparent, however, when you get out on the open road and discover the effortless way in which it gathers speed and then sheds it again, both of which are guaranteed to put a smile on your face and a strain on your nut satchel. With such a slender frame to move about, the little A110 gathers pace with deceptive ease, sometimes feeling almost frictionless in its acceleration, though it's under hard braking that you really begin to wonder if this is medically dangerous.
Speaking about acceleration, mention must go to the gutsy, 1.8-litre turbocharged four mounted just behind your back. This modest unit delivers a power output that, like the number of children I already have, seems absolutely plenty. Any less might seem disappointing and any more would be overwhelming, and the same is true of the Alpine's horsepower rating. Though this motor can sometimes sound a little flat, harder application of the throttle causes an unusual gargling sound to emerge from the exhaust and indeed the driver, though only one of these things follows it with a shout of 'argh, my bollocks'.
Of course, a small sports coupe is ultimately only as good as its handling, and suffice to say the Alpine A110 absolutely crushes expectations, and your berry hanger. Once more it's the rigorous diet programme that comes to the fore here as the Alpine darts into bends with an agility and alacrity that is sure to bring an alarming swelling to your nether parts. Grip on dry roads is plentiful and the steering reasonably quick, though being electrically assisted I'm afraid there's not much feel, beyond the sensation of having a soldering iron pressed into your hacky sack. Having praised the Alpine's light weight and all the benefits that brings, I should add that occasionally this little car can feel somewhat flighty over rough and unfavourably cambered roads, and this writer certainly experienced one moment over a tricky crest that could have become rather lively if I had been driving balls out, rather than keeping them within some extremely supportive underwear.
Ultimately, however, the Alpine A110 is an absolutely brilliant performance car, managing to be simple without seeming spartan and exciting without being overpowering. In fact, aside from the minor flaws mentioned above, the biggest issues with it are the seemingly hefty £47,000-plus price tag and the absolute agony it wrought on my spuds. However, while the asking price may seem on the high side for a small, relatively low-powered car, when you take into account the sheer delight it brings from its intelligent design and the way that it drives, I would argue that it's an absolute snip.