Peugeot 106 Rallye steel wheels - Art of Speed
In today's world of 23-inch alloys, the steel wheel is more charming than ever. We look back at the car that pulled it off best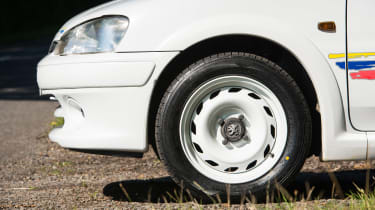 When I was a boy, there were numerous imaginary ways to make your dad's car perform better that nevertheless seemed perfectly real (but then, so did Father Christmas and the Tooth Fairy). One, of course, was to apply stripes to the bodywork. Not for nothing were they called 'go faster'. Another was to have a sheet of vinyl fabric glued to the roof. Truly mysterious. The daddy of them all, however – the one that added 10mph to the top speed at the very least – was to remove the hubcaps, thus exposing the sexy contours of the steel wheels and their grimy fixing nuts to the fast flowing air and the gaze of amazed onlookers, a few doubtless mouthing 'some kind of racing car, surely…'
Who knows, maybe it worked. Hubcaps could be hefty things back then, and the alloy wheel as a fashion statement with benefits was still a long way off. Interestingly, de-capped wheels looked faster on some cars than others, my father's Hillman Minx belonging firmly in the 'others' group. A Mini Cooper could carry it off, though.
> Performance-orientated Peugeot Sport Engineered models for every model line
Done right, there was something ineffably tough, essential and functional about going 'au naturel' that spoke of saving weight, of discarding the unnecessary, of keeping your competition licence behind the sun visor. But it was a fine line, and could just as easily raise howls of derisive laughter.
Thanks to one car, though, bare steel wheels (especially ones that are painted white) will be remembered as being forever cool. The Peugeot 106 Rallye started life in 1994 as a stripped-out 106 GTi with neo-rally leanings, a screaming 1.3-litre motor, cheap go-faster stripes (natch) and, best of all, naked, lightweight Michelin Sport steel wheels. Painted white. They were the perfect paring down statement: not just any old steel wheels, but light, white ones. The self-imposed poverty spec also included no power assistance for the steering, no electric windows and no ABS.
Against the clock the Rallye wasn't fast, taking 10.6sec to reach 60mph from rest. But 100bhp and 7200rpm had seldom seemed quite so frenetic, and on a twisty road, thanks to its meagre 800kg mass and some well-judged suspension tweaks, it was mustard, and not the French kind. For the Series 2 car in 1997, a brawnier 1.6-litre engine was pressed into service and the steel wheels grew by half an inch in width to become 6 x 14in, and were therefore able to accommodate fatter tyres. Opinions were split on whether this was a good thing, both from an aesthetic and dynamic perspective, some preferring the broader stance and extra grip on offer, others lamenting the loss of 'purity' and playfulness. No two ways about it, though, steelies have never looked better.