Ferdinand Porsche (1935-2012)
Designer of the original Porsche 911, Ferdinand Alexander Porsche, has died in Salzburg aged 76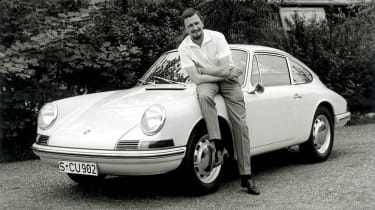 Ferdinand Alexander Porsche, the Father of the original 911, and grandson of the company founder has died aged 76.
Born in 1935 into a motoring family, the young Ferdinand Porsche spent many hours in the workshops with his grandfather - eventually following in his footsteps to become head of the Porsche design studio in 1962.
The earliest 911 (known as the 901 until Peugeot filed a lawsuit) was unveiled in 1963 at the Frankfurt motor show, and this iconic design has been echoed for years, with each passing evolution of the 911. Ferdinand was also responsible for a number of Porsche racing cars during his time as head of design, including the type 804 Formula 1 car, and the Porsche 904 Carrera GTS.
After stepping down from his position at the company in 1972, Ferdinand remained closely involved with the design of many Porsche products, staying on the supervisory board until 2005, when he handed over this position to his son, Ferdinand Oliver.