evo asks - Walter Röhrl on the Cayman GT4, his favourite driving road and more
You asked and we delivered, Walter answers your Facebook questions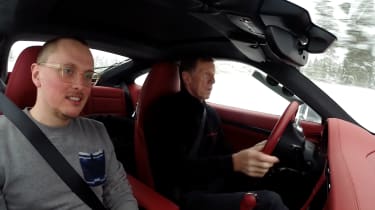 Earlier this week evo was out in Sweden test driving the new Porsche Cayenne Turbo S and GTS. Walter Röhrl showed up in a 911 Turbo S on Winter tyres offering rides through a forrest rally stage on snow.
We posted a video on Facebook showing just how incredible Walter's skills are and asked you, the readers, what you'd like to know from him.
He kindly agreed to answer. Below is our pick of the best from what was a very short chat with one of the most exciting men in motoring.
Trevor Leggo: Is it true Ayrton Senna once asked for your Autograph ? I believe it was when a GP was being held in Monaco.
No he asked me, he wanted to go with me in the Audi S1. That year he was importing an Audi into Brazil, but first of all he wanted to go with me in the Audi S1 rally car. 
The autograph, it was Jean Alesi. I drove the Porsche sports cup as a guest driver and suddenly a German journalist came and gave me a key of a ferrari. He said this is Jean Alesi's keys.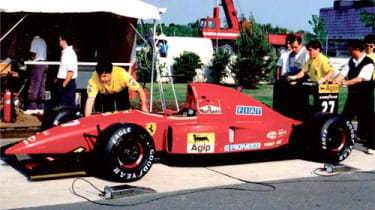 And he said I should give you the key and you (Walter) bring the Ferrari back to him. I said 'I'm sure Mr Alesi doesn't know me'
I was ten years old and I went out by bike to see the rally Monte Carlo and I always said I wanted to be a rally driver. But then, when I was 18 I got a sponsor for race driving and that's the reason, that today, i'm a race driver.
But I think rally driving is the only real motorsport.
Steve Norfield: What's more important to you - ultimate pace or driver involvement?
You know, especially in rally driving, we know some people who had a lot of top speed, like Toivonen and even McRae, but in rally driving, you have no space for mistakes.
I think it's much more about the driver who knows the limit, otherwise it doesn't work. For 20 years there will be a corner waiting to come and get you.
Tomáš Truněček: Cayman GT4. Is it better than the GT3 for you? What cars do you own nowadays?
The GT4 is a perfect handling car, it's a proper race car with a mid-engine. Lets say on a twisty mountain road, like in the Alps, I'm sure you're in the right car if you're in a GT4.
If you come to a racetrack like the Nurburgring, then you need a lot of power as you have many fast parts. Then of course the GT3 has more power and the GT3 is the better car.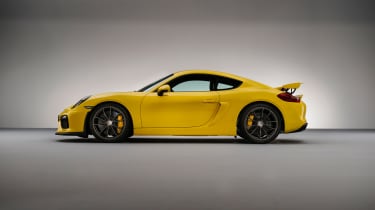 But for somebody who says 'i want to own a Porsche because I have fun driving', the GT4 is a fantastic car.
Rich Jones: Who would he like to be driven by and why?
I was co-piloting only two people in my life, one was Per Eklund and second Mattias Ekstrom. In both I was not afraid something would go wrong. It was nice and I enjoyed it.
Rich: Where does he see Porsche in 5 & 10 years; what technology does he think will dominate?
First of all I hope we never have a 911 electric car. These hybrid cars, you cannot take things back I think. We have to live for the next 10-15 years with these things.
Looking forward maybe we will get a new system, because I still think electric isn't the future.
To produce all these batteries, or recycle all these batteries, it's so much energy that it cannot be the right thing.
evo: How about the idea of electricity filling in the gaps that petrol engines can't provide?
That is unless of course you drive, say our 918, you never can create this kind of power only with a normal petrol engine.
This is because the torque of an electric engine is so impressive, you're just touching the throttle and it's immediately there.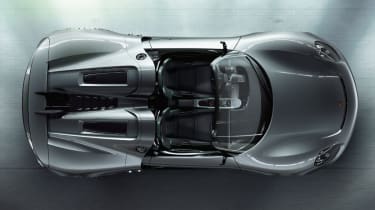 That is something we can't turn back. If you look to Le Mans, everybody is on this system and it will get better in future years.
But for daily use and for large numbers of cars around the world, I don't know if we need to find something else.
Rich: Do you think Porsche should do a works WRC car?
No. If you see the WRC cars, they are not sports cars. That is, they are using cars which a lot of people buy.
They use it just for publicity. Why would you use a Polo or a Citroen DS3, these are normal cars for housewives, but of course, it's something the factories wanted.
Spectators see it and they think, oh it must be a good car and then they sell big numbers.
For Porsche, the direction to racing was planned in 1981. I was driving for the last time in an official Porsche rally car and i was thinking maybe this time we have a chance to go in this right direction (rallying), but then I retired in the rally San Remo with a half shaft problem and it was then decided that Porsche goes into racing.
evo: If Richard tuthill handed you the keys to his Porsche RGT car, would you drive it?
'Yeah why not. I imagine it could be quite interesting.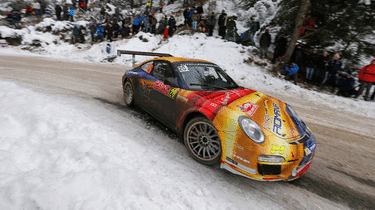 Ethan Jupp: Mr Rohl. Out of any car. Can be a Porsche, I don't mind bias. What would you take out on a nice quiet country road at 2am for a drive and a think. To relax and order your thoughts.
Relaxing. Not for fun? Ok, I think I can use a Bentley. I remember once I was on the motorway and I passed a Bentley and my wife was sitting beside me.
My wife said to me, 'oh if we get old', it could be a nice car. We are already old. A Bentley is a fantastic car, it's really nice.,
evo: There's not a world where you drive in a relaxed manner is there?
No not yet. no.
Jonathan Edwards: What's your favourite public road to drive, why?
Public road or public racetrack? It's the past stages from rally Monte Carlo.
Every year I go out with some friends to the old special stages. It's really twisty, up and down, beautiful, it's something made for a Cayman GT4.
Simon Daultrey: What has been his scariest race car driving experience?
The 935 on the Nurburgring Nordschleife. It was in 1981 and we were using an experimental engine with 800bhp.
In some parts I was not strong enough to hold the steering wheel by hand, I was using my knee.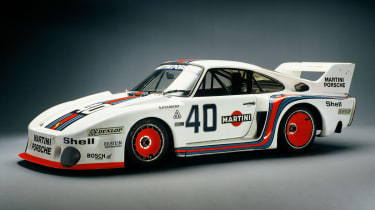 I remember it was the second time I was sitting in a 935. In practice Bob Wollek was fastest with 7min 59sec and I did 8min 00sec and it was the first time driving a car like this on the Nurburgring.
Bob came over and said 'you must be crazy', it took me five years to do this and you're just a second slower.