Ask Goodwin - Which is better, Porsche or Corvette?
The answer to the ultimate question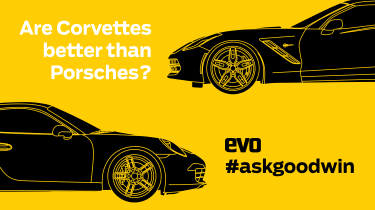 I've Googled Joe Biden and Corvette and found reports of the speech and he indeed said that Corvettes are better than Porsches. He said that they're faster and handle better than the German products. I also discovered that Biden owns a 1967 Stingray in Goodwood green with a 350 small-block under the hood. Whether or not it is a four-speed or three-speeder slusher is not mentioned.
First of all, to have a politician of that rank actually professing to loving cars is a wonderful thing. David Cameron has a CR-V and Ed Milliband a Ford Focus. We don't know who Milliband's successor will be but I'll give every evo reader a quid if that person owns a Delta Integrale Evo or a 1968 Dodge Charger. Nicola Sturgeon the SNP leader doesn't drive and neither does Natalie Bennett of the Green party but she does race a Chevron B8 in historic racing (actually, she doesn't).
Biden's 1967 Corvette couldn't hold a candle to a '67 911S and can you imagine the mess a '73 Carrera RS would make of a Corvette of the same year. The Corvette's win record at Le Mans is not quite so good as Porsche's and neither is it in other events such as the Targa Florio or Daytona 24 hours. However, if Biden is referring to the current state of play between Bowling Green, Kentucky and Zuffenhausen, Baden-Wurttemburg it's a different matter.
Next to the loo is a recent copy of the most excellent Car & Driver magazine in which a Corvette Z06 with supercharger and 650bhp takes on a Porsche 911 Turbo S. The key numbers, and the ones which VP Biden would get excited about, have dollar signs in front of them: the Z06 costs $102,000 and the Turbo S almost double that. If I lived in America I'd own a Corvette (and an old rust-free 911 as well).
And if I lived in America I'd probably vote for Joe Biden.
Ask Goodwin is a new weekly column on evo.co.uk by Colin Goodwin, one of the UK's most popular motoring journalists – and one of the early contributors to evo magazine. 
You'd like Colin – he drove an amphibious vehicle across the English channel (it caught fire half way) and he held the Guinness World Record for the highest speed in reverse (104 mph in a Light Car Company Rocket). More recently he drove from England to the Geneva motor show… in a Caterham 160.
Oh, and when he visits the evo office he does so in a plane that he built in his shed…
Check back every Wednesday lunchtime for a new column, and get involved with #askgoodwin either at @askgoodwin (Colin's Twitter) or @evomagazine. 
Make sure to get involved in the Ask Goodwin debate on our Facebook page here. You can also put your vote in via the poll system found on the evo.co.uk homepage