The dictionary definition of understeer – evo Archive
The day evo columnist Richard Porter proved he wasn't one for turning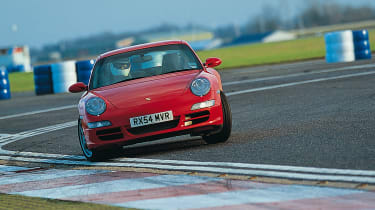 Some say that if you look up 'understeer' in the dictionary then there is just a photo of Richard Porter. That's not true. What is factually accurate is that if you type 'understeer 911' into Google then the very first image to surface is evo's satirical columnist heroically scrubbing the front tyres of a Guards Red 997 Carrera.
The photo in question was captured at the hairpin of Bedford Autodrome's West Circuit by Andy Morgan in 2005 for issue 077. It was for a feature that compared the top of the Porsche Boxster line-up with the bottom of the 911 range in an attempt to see which one was more appealing. I'll let Porter take up the story…
'John Barker was the flinty-eyed helmsman leading things and I was brought along as a sort of cack-handed everyman who hadn't driven many Porsches before. I might have hammed up my ham-fistedness a bit too much because in the next issue someone wrote in to say that if I was that incompetent I shouldn't be writing for evo.'
> Brake failure on the Millbrook straight – evo archive
The letter in issue 078 was from Rob Marcus, London SW1, who did indeed take issue with Porter's self-effacing assertion that he was operating in a 'skills vacuum'. In fact the withering correspondent took even more issue with another photo of Porter driving the Boxster S with the roof down and side windows up. For this crime, Top Gear's then script editor was branded a 'sissy' by the excoriating Marcus. Anyway, on with the story…
'Barker and I spent a nice morning driving the two cars on the road and then went to Bedford Autodrome for some track time, which is where the, erm, "incident" occurred. In my defence, I'd never driven a 911 on a track before and I'm pretty sure this was only my first or second lap and I was still getting my eye in and frankly I thought 911s were meant to let go at the back first and it was a pretty tight corner I'd come into a little hot and… errr… Sorry, I don't really have any more racing-driver excuses. I did learn a lesson though, which is that if you're going to cock it up, don't do it on the corner where the photographer is hiding.
'Fair's fair, it's a brilliant picture of a not-brilliant moment. You look at it and you can practically hear that horrible sort of juddering noise, and the crash helmet just somehow adds to how much of a knob I look. But hey, in the general spectrum of evo people I've always been more of a writer than a racing driver. The wheelsmith department finds this pic hilarious, of course. They won't be laughing when I unleash my secret stash of photos showing them splitting infinitives and misusing reflexive pronouns.'
Indeed, the photo has been wielded tauntingly numerous times on social media by the likes of Meaden, Bovingdon and, I confess, me, which is probably why it ranks so highly on a Google search. Not that this trolling has clouded Porter's opinion of 911s…
'The irony is I now own a 997-shape 911 [a Gen 2 with PDK] so I can go round corners like this all the time.'