Porsche 911 Turbo and Turbo S review – a supercar without compromise?
The Porsche 911 Turbo still leads the way as a usable supercar
The Porsche 911 Turbo, traditionally the ultimate indomitable everyday supercar, might seem at risk from the latest crop of increasingly rounded rivals and new turbocharged entry level 911's, but the Turbo's appeal is much like that of a black Armani suit; expensive, sophisticated and timeless.
The 911 Turbo was first released in the 1970's, but has evolved from the edgy, intimidating sports car it was into the polished and sophisticated everyday supercar of today. Now in its 991.2 guise, the 911 Turbo is as capable and organ-pummellingly fast as ever.
Launched in 2016, the new Turbo is distinguished from earlier cars via a set of redesigned LED light strips in the bumper, fresh wheel designs, revised tail lights and vertical slats on the engine cover (a nod to past 911 models). Available as before with PDK only, the new Turbo has more substance than ever, but it also has more rivals to compete against, so is it still king of its domain?
Porsche 911 Turbo: in detail 
Performance and 0-62mph time > Many have tried to out-launch the 911 Turbo, and most still continue to fail. The fastest Turbo S will hit 62 in a claimed 2.9 seconds, but in typical Porsche fashion, it's a conservative figure.
Engine and gearbox > More a tool than a beating heart, the Turbo's engine possesses a different character to the now also turbocharged base 911's. This is also now a PDK only zone.
Ride and Handling > All-wheel drive, rear-wheel steering and active engine mounts are just the tip of a technological iceberg. In terms of capability, few, if any, match the Turbo for speed across the ground.
MPG and running costs > 31mpg is quoted by Porsche, although drive with any vigour and that will be a optimistic figure to match.
Interior and tech > Classically 911, the interior recently benefited from an upgraded infotainment system and Porsche's slick new steering wheel. Like the exterior, it lacks the wow-factor of rivals though.
Partnership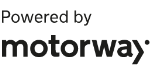 Need to sell your car?
Find your best offer from over 5,000+ dealers. It's that easy.
Design > The 911 is a dynasty that somehow doesn't date. The design is typically conservative, but then that's probably why it never really dated in the first place.   
Prices, specs and rivals:
The 911 Turbo starts at £129k, the S is £148k and both are available as cabriolets for a £9k additional fee.
Porsche's options list makes it easy to get carried away, with £2,500 bucket seats, the £3,800 aerokit and £6500 carbon-ceramic brakes to name but a few of the highlights.
There aren't many performance based modifications aside from the brakes and aerokit mentioned above; PDDC offers active roll stabilisation to improve dynamics, otherwise that's it. However, these options are standard on the S model. By and large the options offer scope for aesthetic customisation and extra tech.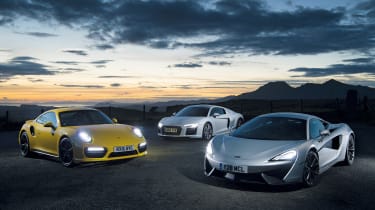 Audi's R8 and McLaren's 540C are natural rivals, similarly priced and on par with the Turbo for performance. We group tested the trio in Wales and the McLaren emerged on top on account of its more engaging character. The junior Mclaren is a car we rate highly, in isolation, but the engine feels like it's being held back as a result of its detuned, 533bhp state.
Naturally-aspirated V10 power lends the  R8 unique appeal in this company, the 540C and 911 Turbo both employ twin-turbocharged, 3.8-litre engines. Aurally then R8 is a class above, but it doesn't handle as well as the 540C, nor can it deliver the brutal performance of the Turbo.
Ultimately though, the Turbo better fits the everyday supercar billing, simply by being a 911 thus having rear seats. As such, on all criteria except price, the Nissan GT-R is arguably the 911 Turbo's closest rival technically – engine position aside.
The GT-R's 3.8-litre twin-turbocharged engine, drives a high-tech all-wheel drive system via a twin-clutch transmission, just like the Turbo. 562bhp and 470lb ft of torque put it firmly in Turbo territory but for a fraction of the price at £83k.