Video: 911 GT2 at Pikes Peak
Porsche racer Jeff Zwart breaks the production car record at the Pikes Peak hillclimb driving his almost standard Porsche 911 GT2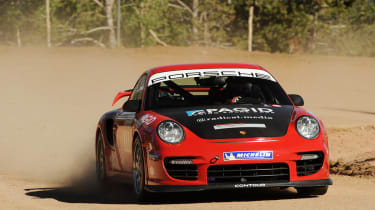 American Jeff Zwart has broken the production car record at Pikes Peak in a barely modified 911 GT2 RS. Before tackling the 12.4 mile course, Zwart drove the car 1100 miles from Porsche Motorsport in California to Colorado. His time of 11:07.869 was 24 seconds quicker than his run last year in a GT3 Cup.
Rod Millen, outright course record holder for 13 years, was the only man to beat Zwart in the 2wd class, driving a competition-spec Hyundai Genesis with over 700bhp. Despite that, he was only three seconds quicker.
The overall record was set by Nobuhiro 'Monster' Tajima in his 900bhp-plus Suzuki SX4 Special, posting an overall time of 9:51.28, making him the first person to conquer the course in under 10 minutes.