911 Carrera S laps the Ring
Porsche has released this video, showing the Carrera S lapping the Nurburgring in 7min37sec.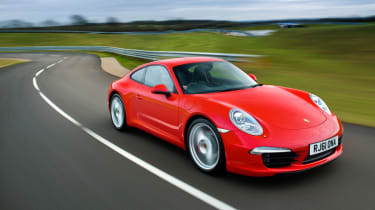 Porsche has confirmed that the new 911 Carrera S has lapped the Nurburgring in 7min 37.9secs, which places it firmly within supercar territory – out-lapping the 7m38s time set by the 911 Turbo in 2008.
The car was piloted by racing driver Timo Kluck, and the 394bhp 991 Carrera S was fitted with a PDK gearbox.
It's not far behind the pace of the other more track-focussed 911s, including the GT3 RS's time of 7m33s, which bodes well for the Turbo and GT3 versions of the 991 when they come along.