Porsche Le Mans 2013 video
A finely filmed Porsche video details its Le Mans success and pays tribute to Allan Simonsen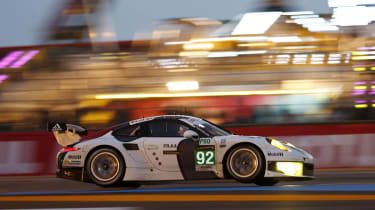 It's summertime, and therefore motorsport season, so competition picture galleries and videos are ten-a-penny. Wading out the good stuff requires a bit of labour. But as exemplified by Porsche's Le Mans video, below, great content is picked up pretty quickly by keen petrolheads and shared incessantly via social media sites, most commonly Twitter.
Porsche at Le Mans 2013 is artfully shot and enthralling to watch, be it reportage footage from the pre-race drivers' parade or the 911 RSR racing car dancing around the final corners of the lap, Ferris wheel spinning in the background. The video extols Porsche's merits – a top-two finish in the GTE Pro class, a successful preview of its full LMP1 campaign for outright Le Mans victory in 2014 – but, respectfully, turns to the topic which consumed everyone at La Sarthe or in front of their TVs last weekend.
Yep, exciting as the racing action was, Le Mans 2013 rightfully never escaped the shadow cast by the death of Aston Martin driver Allan Simonsen after an accident at Tertre Rouge very early in the race. Porsche's respectful tribute echoes the feeling up and down 2013's pitlane.