Porsche 911 GT3 engine replacement
The Porsche 911 GT3's engine problem has been found; replacement engines for all GT3s is the remedy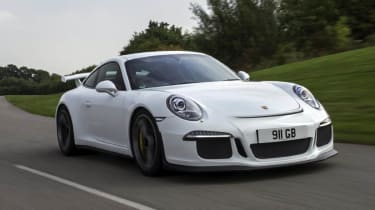 Porsche has announced the reason behind the reported fires linked to the 911 GT3.
An issue with a piston connecting rod bolt was the reason for the two fires linked to brand new 991 GT3s. 
After a notice was released from Porsche telling owners to stop driving a few weeks ago, Porsche has decided to recall every one of the 785 cars (including the 100 or so that made it onto UK soil) and replace their engines.
The action ought to eat into the record profits Porsche announced earlier this week. Record car deliveries of 162,145 led to a three per cent revenue rise, to 14.3 billion euros, with operating profit climbing by six per cent to 2.58 billion euros. For every Porsche sold, the VW Group receives a profit of around 17,000 euros – considerably higher than the circa-600 euros profit yielded by VW's more mainstream products.