We spoke to James Leaney at Porsche specialist Parr, which has 25 years' experience of the brand.
Porsche Boxster engine
One of the key areas to check on any Boxster is around the bell housing. An oil leak here could indicate a crankshaft oil seal failing, but as long as oil isn't dripping on the floor, replacement can usually wait until the car needs a clutch.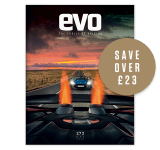 Subscribe to evo magazine
Subscribe today to have every issue of evo delivered straight to you. You'll SAVE 39% on the shop price, and get evo for its original cover price for a whole year!
Of more concern would be bearing-type noises from the rear of the engine. According to James, this could indicate a possible failing bearing on the rear of the intermediate shaft, which transfers drive from the crankshaft to the camshafts. 'The bearing is a "sealed for life" item but engine oil forced in by the cam chains can wash the grease out,' says James.
Barry Hart at Porsche engine specialist Hartech takes up the story: 'If the bearing fails then generally the engine will need rebuilding, but if the gearbox is out for a clutch change then the bearing can be checked and, if there is play, we can replace it without removing the engine. We'd recommend buyers walk away from cars with a noisy bearing.'
Problems with Mass Air Flow (MAF) sensors are not uncommon, causing hesitation when driving. Replacements cost £130. Ignition packs also have a habit of cracking and causing misfires.
A problem specific to the 986 variant is cracking coolant expansion tanks, which leak water into the boot. Also, oil separators can fail, which shows up as either a running fault or blue smoke in the exhaust. This shouldn't be confused with a puff of blue smoke on start-up, though, as this is common with flat engines.
Finally, check the coolant radiators and air-conditioning condensers at the front of the car. 'Leaves can get stuck in the ducts and as they mulch down they rot the radiators,' says James.
Transmission
Generally, the various transmissions are very reliable. However, the six-speed gearbox can pop out of second gear. The solution is a strip-down and rebuild, using a modified detent.
Suspension, wheels and brakes
'The Boxster isn't particularly heavy on brakes but they can corrode if the car isn't used,' says James. 'Owners should drive the car after it has been washed to dry them off.'
The Boxster also suffers from suspension bush wear. 'Bottom-arm bushes last around 30,000-40,000 miles,' says James. 'They then start to delaminate and begin creaking. Replacements are £200 each. Also, the rose joints on the trailing arms, where they meet the body, can wear and knock. These are £135 for the fronts and £200 for the rears.'
Bodywork
There are no real corrosion issues, but James recommends checking the roof operation: 'Make sure there are no creaks as the roof goes down and up, possibly indicating a dry joint in the mechanism. Also, check behind the seats for water. If the drain holes under the roof get blocked, water can get in here.'
Interior
The 987 interior is harder wearing than the earlier versions, but check all the electrics work properly, as the Boxster was one of the first cars to use CANBUS technology – individual electrical systems controlled by coded signals sharing common wiring.
Find used Porsche Boxster's for sale on the Classic and Performance Car site here.
Specifications (2009 Boxster S)
| | |
| --- | --- |
| Engine | Flat-six, 3436cc |
| Max power | 306bhp @ 6400rpm |
| Max torque | 265lb ft @ 5500rpm |
| Transmission | Six-speed manual gearbox, rear-wheel drive |
| Tyres | 235/40x18 front, 265/40x18 rear |
| Weight (kerb) | 1355kg |
| Power-to-weight | 229bhp/ton |
| 0-62mph | 5.3sec (claimed) |
| Top speed | 170mph (claimed) |
| Price when new | £40,388 (2009) |
Parts Prices
| | |
| --- | --- |
| Tyres (each) | £176.19 front, £264.69 rear (Michelin Pilot Sport 2) |
| Brake pads (front set) | £113.40 |
| Brake discs (front, each) | £88.13 |
| Clutch, complete | £214.32 |
| Flywheel | £396 |
| Oil filter | £16.88 |
| Air filter | £30.69 |
| Spark plugs (set of six) | £50.48 |
Prices supplied by Parr, Sussex. Prices include VAT at 17.5% but not fitting)
Servicing
| | |
| --- | --- |
| Minor service (20,000 miles/2 years) | £338.92 |
| Major service (40,000 miles/4 years) | £429.53 |
Prices supplied by Parr, Sussex
What to pay
Early Boxsters can be had for as little as £7000, but for this money you'll be looking at something with minicab mileage. Younger and fresher examples can be had easily for around £13,000, while late 986s are available for around £15,000. The price jumps to around £20,000 for an early 987 and closer to £30,000 for the last of the first-generation 987s (late 2008). The price gap between the base model and the S expands the newer the car is, but is rarely enough to put you off the more powerful version.
*All prices correct as of October 2011