Porsche 919 Le Mans racer unveiled: Geneva 2014
Porsche reveals 919 LMP1 car, for this year's big return to the Le Mans 24 Hours. Details and pictures here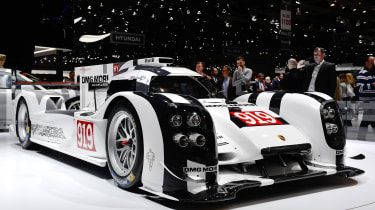 Porsche has revealed the final version if the 919 Prototype racer at the 2014 Geneva motor show, the car that it will use to challenge Audi at this year's 24 Hours of Le Mans.
The LMP1 prototype uses a 2-litre V4 that can rev up to 9000rpm and – when combined with the energy recovery systems – can produce 493bhp. The first energy recovery system helping to produce that power utilises heat energy from exhaust gases, whilst the second will use kinetic energy from the front brakes (like the 918 Spyder). This energy will be stored in a battery, which can then provide power for electric motors that power the front wheels.
Essentially, this makes the 919 all-wheel drive, as well as being the most complex racing car Porsche has ever produced. The German sports-carmaker last competed on the legendary Circuit de la Sarthe as a potential outright winner back in 1998, and with 16 years having passed, it wants to emphasise how the creation of the 919 has involved an entirely new team.
But with a record-holding 16 outright wins and even 101 class wins to its name, Le Mans fans the world over will no doubt eagerly watch the return of one of endurance racing's most iconic names. Can it topple the now dominant Audi, its own stablemate in the Volkswagen Group? We'll have a better idea when the lights go green on 14 June.