Renault Mégane R.S 225 Trophy - fast fleet report 2
How would the Megane fair over a weekend break to the Yorkshire moors?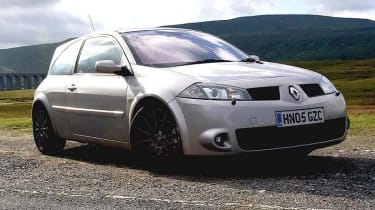 Driving through Yorkshire recently, en route for a long weekend break, I had the rare chance of a clear drive across the moors, without any interruption from caravans, holiday traffic or tractors. You'll be pleased to hear that I made the most of it.
The Mégane was blinding, almost as if it had been developed for this road alone. Over crests and through compressions, it never faltered, the dampers and suspension working hard to keep the body beautifully controlled. In corners it felt nailed to the road, clinging on however hard I pushed. Like the Clio Cup that I ran last year, big brother Mégane just ate up and spat out those cross-country miles. In fact, with the superior driving position, it felt just a bit easier to drive hard. The only thing I was missing was a good exhaust note (maybe something for the future?).
It wasn't until we reached a T-junction on the road at Askrigg that I realised that for past 20 minutes there had not been a word from my girlfriend. So now I received The Glare, the one that all women possess. Next time you hear a bloke going on about a great drive over a pint in the local, ask them how much shopping they had to do afterwards to make up for it.
> Renault Megane R.S 225 Trophy - fast fleet report 1
Running Costs
| | |
| --- | --- |
| Date acquired | June 2005 |
| Total mileage | 10,320 |
| Costs this month | 2 pairs of shoes and a handbag |
| Mileage this month | 3974 |
| MPG this month | 28.0mpg |