Renault Mégane RS review – capable of toppling the Civic Type R? - Engine and gearbox
It might not drive like the other Renault Sport Méganes we've known and loved, but this version is still mightily impressive
Engine and gearbox
The Mégane's 1.8-litre turbocharged four-cylinder engine is the same unit as found in the middle of the new Alpine A110, as is the dual-clutch transmission. But rather than making do with the sports car's 249bhp and 236lb ft, the hot hatch gets an extra 27bhp and 52lb ft of torque. That's thanks to alterations to the cylinder head by Renault's Formula 1 powertrain engineers, a faster reacting twin-scroll turbocharger, mirror coating on the cylinder bores and a higher capacity, dual-intake induction.
The Mégane's exhaust includes some refreshingly simple technology to create different volumes depending on how you're driving. But, rather than resorting to heavy valves and actuators, the pressure and speed of the exhaust gasses change the way it sounds – as the revs rise and the engine expels more exhaust gasses, the longer silencer tube in the back-box is automatically bypassed.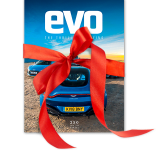 Subscribe to evo magazine
If you're passionate about the world's greatest performance cars, experience the thrill of driving with evo magazine. Try your first 5 issues for £5.