The latest version of the Mégane RS marks a change in attitude from Renault Sport, the French company that's been responsible for some of evo's favourite hot hatches. Gone is the simple but well-honed chassis of the previous Méganes, with their humble torsion beam rear axles, and in its place is greater sophistication and more complex components. Most notable is the inclusion of a dual-clutch transmission and rear-wheel steering. It might be different, but the same well-considered approach has been taken as before; every one of the new car's clever components works in unison with the next to make this hot hatch seriously capable.
> Find out what the very last previous generation, the Mégane 275 Cup-S, is like to drive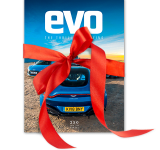 Subscribe to evo magazine
If you're passionate about the world's greatest performance cars, experience the thrill of driving with evo magazine. Try your first 5 issues for £5.
Impressive, yes, but fans of Renault Sport's tactics of old may find the new car a little cold and lacking the gritty, no compromise interaction between car and driver that was so evident in previous Mégane RSs. But, what this car can achieve and what the more complex chassis allows it to do, will astound even the most ardent old-school hot hatch fan. Its ability to dispatch the most serpentine and challenging B-road with exceptional agility, unwavering traction and resolute body control is a thing to behold.
That the Mégane is a looker, thanks to well-integrated flared arches, a neat silhouette and subtle spoilers, makes it an even more appealing package. Its understated exterior also further differentiates it from its somewhat grotesque rivals. Yes, we're looking at you, Honda Civic Type R.
Renault Mégane RS in detail
Performance and 0-60 time – It isn't the fastest hot hatch, but its acceleration figures put it on par with the Honda Civic Type R. That said, the Mégane isn't really about 0-60mph times and top speed.
Engine and gearbox – The 1.8-litre turbocharged four-cylinder has been breathed on by Renault F1 experts and it feels strong. We'd couldn't recommend the dual-clutch gearbox over the manual, though.
Ride and handling – It doesn't behave like you'd expect a Renault Sport car to, but the Mégane RS is still impressive, grippy and fast.
MPG and running costs – You won't buy the RS Mégane for its economy, but you might be pleasantly surprised at how frugal it can be.
Interior and tech – The interior is certainly more high-end than previous Méganes. It looks good and feels good, too, mostly.
Design – With nicely flared arches and a lack of wings and spoilers, the new Mégane is a great-looking car. A welcome change from other hot hatches, too.
Prices, specs and rivals
The Renault Mégane RS changes quite dramatically depending on what spec you choose. Currently, no matter which version you select, the power stays the same, but opt for the Cup chassis – a £1500 option – and the suspension is stiffened up by 10 per cent and there's a Torsen limited-slip differential added to the front axle. These changes add some real aggression to the way the hot hatch drives.
There's also a choice of two six-speed gearboxes; a conventional manual and a dual-clutch automated manual. The three-pedal option is the transmission to go for – not only is it £1700 cheaper than Renault's EDC 'box, but it's also less frustrating to use during spirited driving.
Less significant is the £900 bi-material brake discs option. Rather than being made entirely from cast iron, the front brake discs are constructed using an aluminium centre, with the outer disc in cast iron. They reduce unsprung and rotational mass by 3.6kg, while they are also more resistant to fade and warping. The advantages aren't immediately noticeable from the driver's seat, but over time and repeated track use you might see the benefits.
All cars, whether they have the Cup chassis or EDC gearbox, have Renault's 4Control rear-wheel steering – that is not optional. However, it's been treated to a comprehensive Renaultsport overhaul, making it far more responsive than the similar system used in the GT.
The basic RS – a manual non-Cup car – is priced very competitively at £27,495. With 276bhp, 288lb ft and a 0-62mph time of 5.8sec, it's more powerful, torquier and faster to 62mph than the Peugeot 308 GTi, Hyundai i30 N Performance and the VW Golf GTI Performance, and is cheaper than all three, too.
> Read our review of the Honda Civic Type R
In spirit, the Mégane competes with a higher tier of hot hatch, though. And when equipped with the Cup chassis and the fancier brakes, it costs more like it too at £29,895. However, it is outgunned somewhat by the 296bhp SEAT Leon Cupra 300, the 306bhp VW Golf R and the 316bhp Honda Civic Type R. A Trophy version of the Mégane with 296bhp and a revised chassis will be on its way soon to take the fight to the current crop of mega hatches.